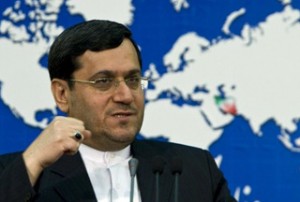 Iranian Foreign Ministry Spokesman Hassan Qashqavi has said that Iran's political relations with Egypt are not a secret.
"Tehran-Cairo ties are not undisclosed and the two countries' foreign ministers had warm and cordial contact in front of cameras," Qashqavi said at his weekly press conference on Monday.
Iranian Foreign Minister Manouchehr Mottaki met with his Egyptian counterpart Ahmed Aboul Gheit at the 15th ministerial meeting of the Non-aligned Movement (NAM) in the Egyptian resort city of Sharm al-Sheikh held from July 13-14.
"Iran and Egypt have different opinions in some fields, but we can have international cooperation as we have common interests in other fields," Qashqavi added.
The Iranian spokesman went on to describe the relations between Iran and Syria as mutual and brotherly. "Iranian and Syrian officials have had many meetings in the past few years."
"Nobody can disturb the ties between the two countries, which are based on mutual respect and brotherly relations," Qashqavi concluded.