Saudi Arabia
Qatar urges Saudi regime to lift all Hajj restrictions on its pilgrims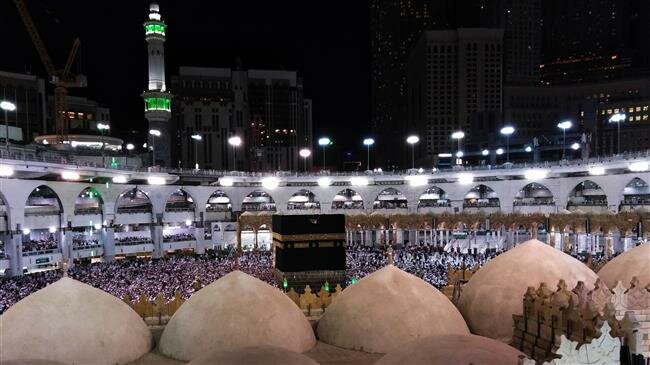 Qatar has called on Saudi regime to remove all "obstacles and restrictions" for its citizens wishing to perform the Hajj pilgrimage.
Qatari Ministry of Endowments and Islamic Affairs late Thursday called on Saudi authorities "to lift all obstacles and restrictions imposed on Qatari citizens and residents wishing to perform their religious rituals."
It added that such travel restrictions prevent Qatari religious tour operators from traveling to Saudi Arabia to make the necessary arrangements for pilgrims, like other countries.
The ministry also called on Riyadh to remove "discriminatory" measures against Qataris and residents of the Persian Gulf state.
The two countries are embroiled in a diplomatic dispute since June 2017.
Doha made the demand after Saudi Arabia, home to Islam's holiest cities of Mecca and Medina, announced electronic registration for Qatari residents to allow them to perform the Umrah Hajj (minor pilgrimage) during the holy month of Ramadan.
A statement carried by the official Saudi Press Agency on Tuesday said that Qataris and foreign residents of the Persian Gulf state would be allowed to land at Jeddah or Medina airports.
However, Qatar's National Human Rights Committee rejected the new measure as "nominal" and insufficient and said air travel remained blocked and the only border post has been shut for almost two years.
Saudi Arabia, the United Arab Emirates, Bahrain and Egypt all cut off diplomatic ties with Qatar after officially accusing it of "sponsoring terrorism."
The administration of the Saudi-backed and former Yemeni President Abd Rabbuh Mansur Hadi, Libya, the Maldives, Djibouti, Senegal and the Comoros later joined the camp in ending diplomatic ties with Doha. Jordan downgraded its diplomatic relations as well.
Qatar's Foreign Ministry later announced that the decision to cut diplomatic ties was unjustified and based on false claims and assumptions.
Addressing world leaders at the 73rd session of the United Nations General Assembly in New York in September 2018, Qatari Emir Sheikh Tamim bin Hamad Al Thani censured the ongoing Saudi-led diplomatic and trade boycott against his energy-rich Persian Gulf kingdom, describing the move as a flagrant violation of the international law.
Sheikh Tamim said the blockade is "paralyzing" Arab nations and has only caused "our region to remain hostage to marginal differences" and emphasized that Doha remains open to "unconditional dialogue."
Later that month, Saudi Arabia and its allies released a 13-point list of demands, including the closure of Al Jazeera television network and downgrade of relations with Iran, in return for the normalization of diplomatic relations with Doha.
The document containing the demands by Saudi Arabia, Egypt, the UAE and Bahrain also asked Qatar to sever all ties with the Muslim Brotherhood and the Lebanese Hezbollah resistance movement. Qatar rejected the demands as "unreasonable."