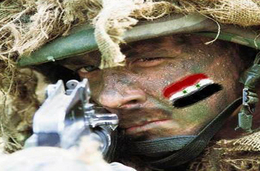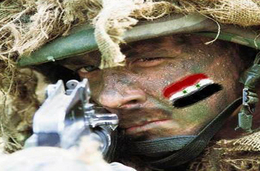 Syrian Army carried out several qualitative operations in Aleppo and Damascus countryside, destroying dens of foreign-backed militants, killing and injuring a number of them.
In Aleppo, Syrian army units destroyed hideouts of armed groups in the areas of Bani Zeird and al-Sakhour in Aleppo city, leaving Syrian soldiers (archive)many militants dead or injured, official news agency reported.
Another army unit destroyed weapons and ammunition loaded in a number of cars which were coming from Turkey, south of Azaz city in Aleppo countryside.
The army also killed and injured militants who were committing robberies on the road between Andan and Hreitan, the agency added.
In Aleppo's northwestern countryside, an Army unit carried out a special operation against gatherings for armed groups on the road between Ma'aret al-Artik and Babiss, eliminating a number of militants, while another unit eliminated gunmen in the villages of Kafer Dael and al-Atareb and near Khan al-Asal in Aleppo's southwestern countryside, according to SANA.
Damascus Countryside
Meanwhile in al-Qaboun neighborhood in Damascus countryside, Syrian armed forces destroyed a den for armed groups with the weapons and ammunition, as they killed all militants who were inside, SANA quoted official source as saying.
The agency added that the army discovered a field hospital in Barzeh neighborhood, killing two leaders of armed groups; Mahmoud al-Habboul and Ahmad Antouz.
The source indicated that gatherings of Nusra front were eliminated in Douma city and southwest of Adra al-Balad, in addition to destroying a den for an armed group, a mortar cannon and heavy machinegun, and killing numbers of militants in Hejjira town.
The source added that an army unit clashed with an armed group near Shammot Car Company in Harasta, killing and wounding a number of its members, as a militants' hideout was destroyed in Erbin town with the weapons and ammunition inside.
In eastern Ghouta, an army unit killed most of an armed group's members in al-Baharia farms and destroyed heavy machineguns and automatic rifles.