Palestine
Rabid dog Israel breaks ceasefire, bombs house in Shati camp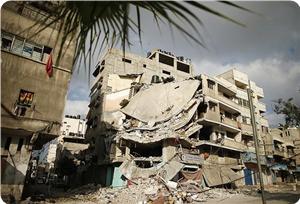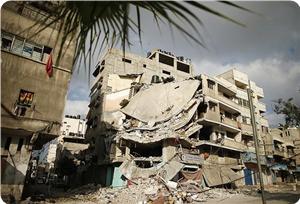 Israeli Occupation Forces violated the declared ceasefire on Monday after bombing a home in Shati refugee camp in Gaza City, killing a nine-year-old girl and wounding 30 other people most of them in critical condition.
The Israeli authorities have unilaterally declared early Monday a seven-hour ceasefire in most of Gaza territories.
Local sources confirmed that Israeli warplanes had bombed a home in Shati camp 15 minutes after the scheduled ceasefire went into effect.
Spokesman for the Health Ministry Ashraf al-Qudra said an airstrike hit al-Bakri family's home in Shati camp, killing the little girl Aseel Muhammad al-Bakri and leaving 30 people seriously injured mostly children and women.
In the same context, Hamas Movement urged this morning the Palestinian people in Gaza Strip to remain cautious after a civilian home in Shati camp was bombed despite the truce.
Attacking the house after the Israeli unilateral ceasefire began showed the truce was a media stunt, Hamas spokesman Sami Abu Zuhri said, calling on the citizens to remain cautious.
Israel launched on July 7 a bloody aggression on Gaza that was developed into a ground offensive. More than 1844 were killed and 8500 others were injured mostly children and women.