Palestine
Rabid Dog israeli forces shoot Palestinian youth in northern West Bank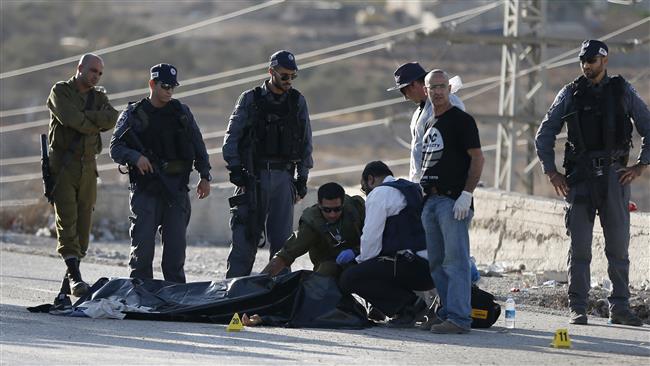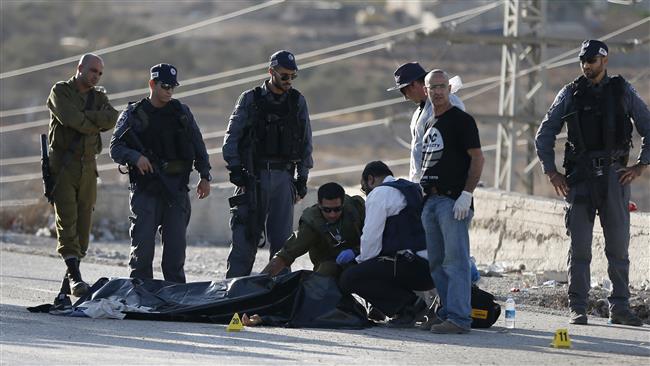 Israeli forces have shot another Palestinian in the occupied West Bank after he allegedly attacked a security checkpoint in the northern part of the Palestinian territory, and sought to stab an Israeli soldier.
Informed sources, speaking on condition of anonymity, said the incident took place at the Jalama checkpoint, or the Gilboa crossing, at the northern entrance to the city of Jenin on Saturday morning, Arabic-language Palestine al-Yawm news agency reported.
Medics from the Palestine Red Crescent Society said Israeli troopers prevented them from approaching the injured Palestinian man, and taking him to a nearby hospital to save his life. He succumbed to his gunshot wounds moments later.
The development came only hours after a Palestinian man reportedly stabbed an Israeli soldier in Tel Aviv.
Elsewhere in the Palestinian town of Abu Dis bordering al-Quds (Jerusalem), at least 72 Palestinians were injured on Saturday, when bitter skirmishes broke out between Palestinian protesters and Israeli soldiers.
Seven Palestinians were shot in the head with rubber-coated steel bullets, while five others suffered excessive tear gas inhalation. A Palestinian correspondent, identified as Rami Alariyah, was among the wounded.
Israeli military forces also arrested a number of Palestinian youths during the imbroglio.
Meanwhile, Israeli forces have arrested nearly a dozen Palestinians during a series of raids on a number of houses across the occupied East al-Quds (Jerusalem).
Local sources, requesting anonymity, said Israeli military vehicles stormed the Jabel Mukaber neighborhood in southern East al-Quds and nearby village of Sheikh Sa'ad on Saturday morning.
The Israeli forces broke into dozens of homes and rummaged through them, causing excessive property damage before detaining two Palestinians.
The rest of the detainees came from the al-Issawiya neighborhood of East al-Quds, and the Silwan neighborhood on the outskirts of the Israeli-occupied Old City of al-Quds.
The Palestinian Red Crescent Society and medical officials said 290 Palestinians were injured, including 43 with live rounds and 44 with rubber bullets, during clashes across the occupied West Bank and the Gaza Strip on Friday. Hundreds of people suffered tear gas inhalation.
Gaza's Health Ministry spokesman Ashraf al-Qidra said around 65 Palestinians were injured during scuffles in blockaded Palestinian coastal sliver.
The fresh wave of tensions was triggered by the Israeli regime's imposition in August of restrictions on the entry of Palestinian worshipers into the al-Aqsa Mosque.
Palestinians are also angry at increasing violence by Israeli settlers who frequently storm the al-Aqsa Mosque, the third holiest site in Islam after Masjid al-Haram in Mecca and Masjid al-Nabawi in Medina. They say the Tel Aviv regime seeks to change the status quo of the compound.
Nearly 60 Palestinians have been killed and hundreds of others injured since the Israeli regime began a harsh crackdown in early October on the Palestinians.