Palestine
Rabid Dog israel's Rafah Friday shelling death toll rises to 50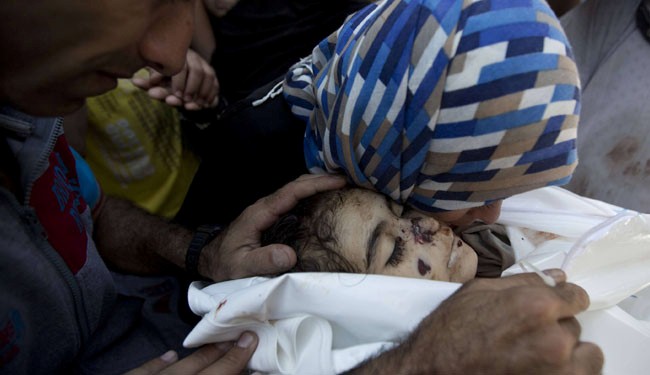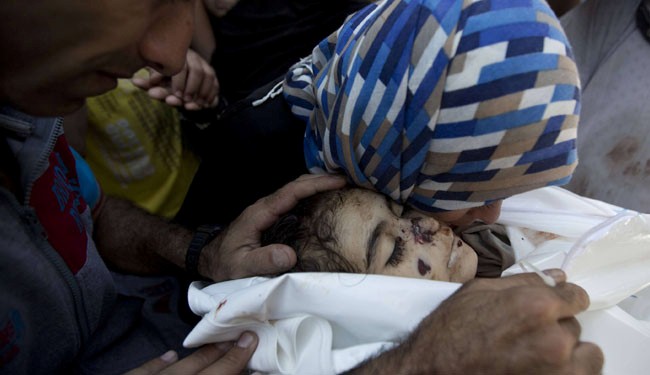 The Israeli regime has re-violated its new 3-day ceasefire, renewing its shelling in which at least 50 Palestinians killed on eastern outskirts of Rafah in the southern Gaza Strip on Friday.
According to Gaza Health Ministry, the relentless artillery attacks have also left at least 220 people injured.
In response, the Palestinian resistance groups launched rocket attacks on Israeli positions across Karam Abu Salem crossing in the southern Gaza Strip.
More than 1460 Palestinians, most of them civilians, have been killed and nearly 9000 others injured since the start of the Israeli military invasion of the Gaza Strip on July 8.
The brutal attacks have also destroyed hundreds of homes, schools and medical centers in the densely populated coastal enclave so far.
Israel has earlier declared a Gaza ceasefire over and renewed shelling, saying Hamas fighters had breached the truce shortly after it began and apparently captured an Israeli soldier.
The 72-hour break announced by U.S. Secretary of State John Kerry and U.N. Secretary-General Ban Ki-moon was the most ambitious attempt so far to end more than three weeks of fighting, and followed mounting international alarm over a rising Palestinian civilian death toll.
The ceasefire was to be followed by Israeli-Palestinian negotiations in Cairo on a longer-term solution.
Egyptian officials said the invitation still stood, but some Palestinian representatives had asked for a postponement until Saturday or Sunday to allow a new truce to be reached.
The truce had left Israeli ground forces in place in the Hamas-dominated Gaza Strip and a military spokeswoman had said operations would continue to destroy a warren of tunnels through which Hamas has menaced Israel's southern towns and army bases.
There was no immediate word from Hamas on whether any were holding the soldier, identified by the military as Second Lieutenant Hadar Goldin, 23.