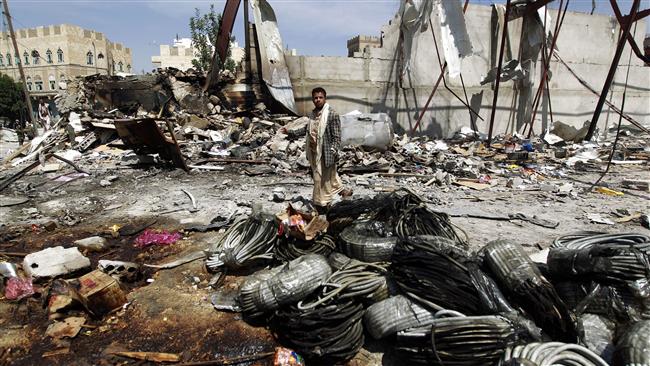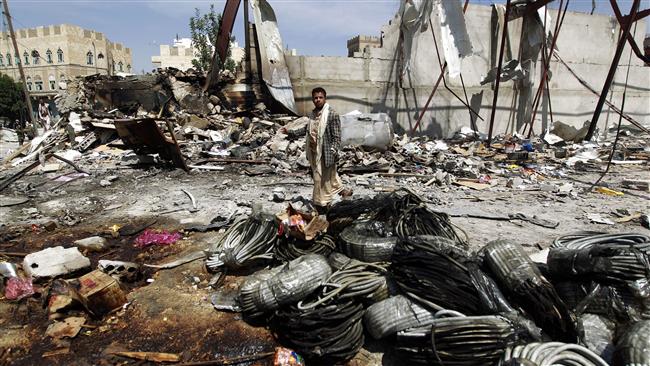 Saudi jets have continued bombing different parts of Yemen's northwestern Sa'ada province, causing more loss of life and destroying more homes in the impoverished country.
Saudi bombs hit residential areas in Razih and Majz districts in Sa'ada on Wednesday. Several homes were destroyed in the airstrikes and civilian casualties were reported.
At least seven people were killed and eight others injured in similar attacks in al-Nazeer and al-Azad districts in Sa'ada's Razih district.
Yemen's al-Massirah news network also reported that Saudi warplanes targeted al-Matar district in Ma'rib Province.
Saudi jets also bombed al-Sabeen city in Sana'a province. There were no immediate reports of possible casualties in the attack.
In the southwestern city of Ta'izz, Saudi jets attacked the home of Mohammed al-Hajj, deputy governor for Ta'izz and secretary general of the al-Jahmaliyah local council. They also hit a security office, trade areas and al-Mokalkal base, al-Massirah further reported.
The Saudi military has been engaged in heavy strikes against Yemen since late March. The attacks are supposedly meant to undermine the Houthi Ansarullah movement and restore power to fugitive former Yemeni president, Abd Rabbuh Mansour Hadi, a staunch Saudi ally.
On Tuesday, international medical group, Doctors Without Borders (MSF), said Saudi air assaults hit an MSF hospital on Monday night while patients and staff were inside the facility. The hospital is located in the Hidan district of Sa'ada.
"The air raids resulted in the destruction of the entire hospital with all that was inside – devices and medical supplies – and the moderate wounding of several people," Dr. Ali Mughli said.
The UN condemned the Saudi Arabia's airstrikes on the hospital, with Secretary General Ban ki-Moon calling for "a prompt, effective and impartial investigation in order to ensure accountability."
Ban also urged "all parties to the conflict in Yemen to immediately cease all operations, including airstrikes."
About 7,000 people have lost their lives in the Saudi air raids, and a total of nearly 14,000 people have been injured since March 26.