Palestine
Human Rights
Middle East
Rabid zionist regime closes al-Aqsa Mosque compound to settlers amid fears of escalation
Zionist regime has reportedly decided to close the al-Aqsa Mosque compound's entrances to Israeli settlers as the regime fears that its flagrant violations in the occupied Palestinian territories may trigger further escalation.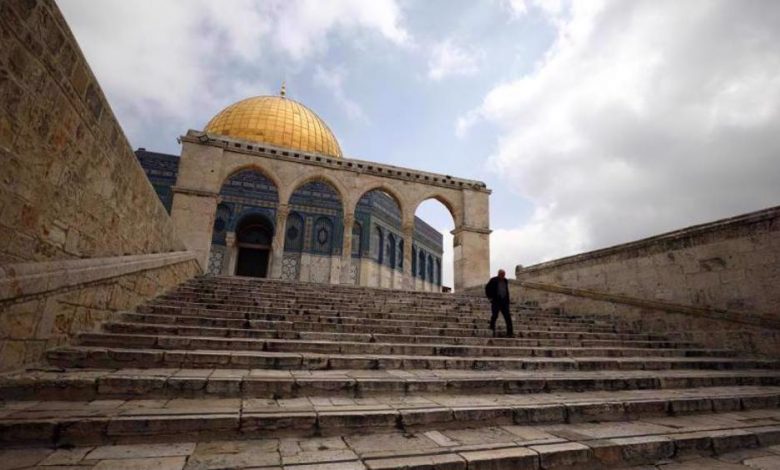 The Israeli army radio announced the settlers would be barred from the compound as of Tuesday until further notice, the Palestinian Information Center reported.
The outlet said the decision had followed flare-up of tensions and clashes in the occupied city of Jerusalem al-Quds in the West Bank, and warnings about exacerbation of the situation, especially towards the end of Ramadan.
Since the beginning of the holy Muslim fasting month, Israeli settlers have been roaming the occupied territory under the Israeli military's protection, trying to prevent Muslims from performing their religious duties in public.
The settlers reside in thousands of illegal structures that Tel Aviv has been building since occupying the West Bank in 1967.
They have been circulating invites to anti-Palestinian unrest on the mosque's compound on the 28th day of Ramadan, something that has prompted Palestinians to call counter-rallies to confront the occupiers.
On Monday, the Israeli instigations took a dangerous turn after the Israeli settlers and forces attacked Palestinian homes in East al-Quds' Sheikh Jarrah neighborhood.https://if-cdn.com/3b733Mp?v=1&app=1
The aggressors were trying to prompt the Palestinians to abandon their residents there. The regime had earlier issued them warnings that they had to evacuate their homes.
According to local Palestinian media, 20 people were injured, and at least four Palestinian men and one girl were arrested during the raid.
American-accented settler confronts Palestinian woman
A video, meanwhile, surfaced showing an Israeli settler standing right in the middle of the garden of a Palestinian home in Sheikh Jarrah, confronting a 22-year-old woman from the family.
The Israeli regime appropriated half of the al-Kurd family's home in 2009. The part of the property was then "squatted" by settlers with "thick Brooklyn accents," Al Jazeera reported, quoting a member of the family.
Since then, the settlers have been trying to harass al-Kurds and even their neighbors into leaving.
Jacob, the settler seen in the video, was apparently one of those, who have taken over half of the house.
The Palestinian woman is seen telling him, "No one is allowed to steal my home!"
"If I don't steal it, someone else will steal it. So why are you yelling at me?" the settler answers in perfect American accent.
The United States is Israel's oldest and strongest ally. Washington has been unstintingly reinforcing the regime and shielding it against accountability since 1948, when the regime proclaimed existence after occupying some regional territories.
The powerful Zionist activism network in the United States is responsible for ceaseless agitation across the country in favor of the Israeli regime's atrocities towards Palestinians.