Human Rights
Middle East
Palestine
Rabid zionist settlers raid Aqsa Mosque in al-Quds as site reopens after lockdown
Extremist Israeli settlers have stormed the al-Aqsa Mosque compound in the occupied Old City of Jerusalem al-Quds under the protection of regime forces, only a few hours after the sacred site was reopened following more than two months of closure due to the coronavirus pandemic.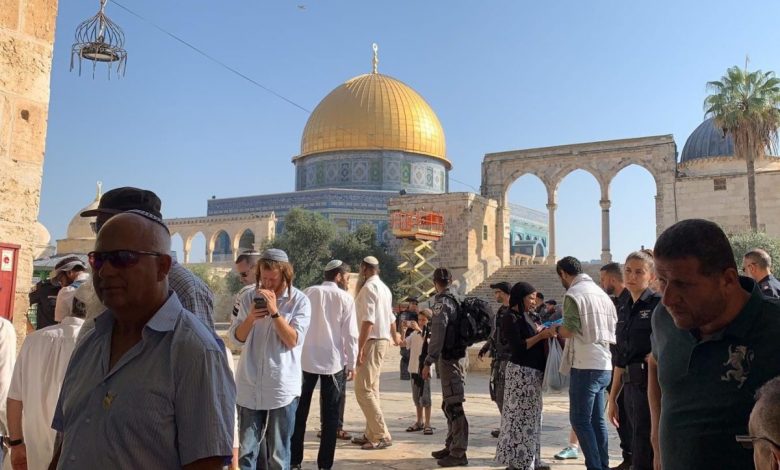 "Around 105 zionist settlers [led by fanatic rabbi Yehudah Glick] have entered the compound since early morning under protection of Israeli police," Omar Kiswani, director of al-Aqsa Mosque, told Turkey's official Anadolu news agency on Sunday.
He said the move "came to upset the worshippers" in the wake of the mosque reopening for prayers.
Kiswani said Israeli forces also arrested three Palestinians from inside the site. No reason was provided for the arrests.
"These incursions and arrests will not alter the Arab and Islamic nature of al-Aqsa mosque," highlighted.
Palestine's official news agency WAFA reported that Israeli forces also detained Nasser Qous, head of the Palestinian Prisoner's Society (PPS).
The Jewish visitation of al-Aqsa is permitted, but according to an agreement signed between Israel and the Jordanian government after Israel's occupation of East Jerusalem al-Quds in 1967, non-Muslim worship at the compound is prohibited.
Furthermore, the number of Israeli lawmakers who storm the sacred compound has increased after Prime Minister Benjamin Netanyahu decided in July 2018 to allow such visits once every three months.
Many of the Knesset members are right-wing extremists, who support the demolition of the Islamic site in order to build a Jewish temple instead.
Tensions have been on the rise in recent weeks in the occupied territories as Israel has pressed ahead with its plans to annex large parts of the West Bank in line with US President Donald Trump's so-called Middle East peace plan, which strongly favors Israel and has been rejected by the Palestinians.
Israeli Prime Minister Benjamin Netanyahu, who was sworn into office for another term on May 17, has set July 1 for the start of cabinet discussions on extending Israeli sovereignty over settlements in the West Bank and the Jordan Valley.
In response to Israel's decision, Palestinian President Mahmoud Abbas declared the end of all agreements signed with Israel and the United States on May 19.