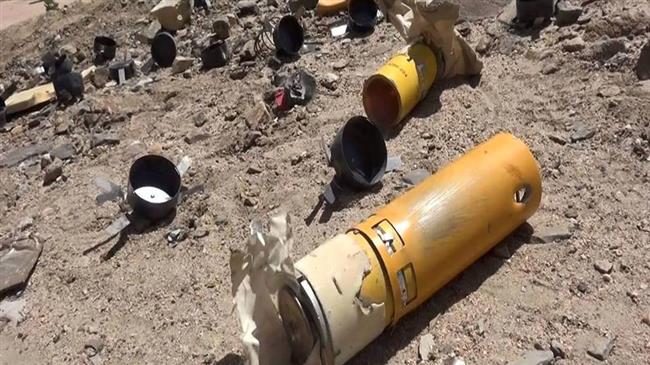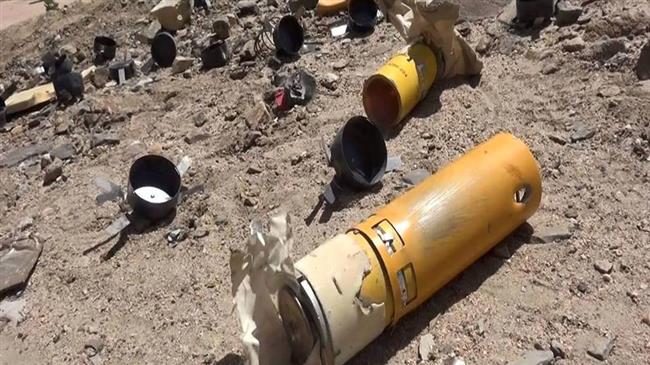 Thousands of innocent children continue to fall victim to Saudi Arabia's use of cluster bombs in aerial attacks on residential areas across the Yemen, corroborating assertions of violation of international law in the impoverished Arab country.
Derhim al-Tuheiti was playing in a farming field in an area in Yemen's western coastal province of Hudaydah, located 150 kilometers southwest of the capital Sana'a, less than a week ago when he found an unexploded cluster bomb.
He took it home, believing it was a toy or a piece of scrap metal. All at once, like deafening firecrackers, explosions ripped through the building, seriously injuring Derhim, his mother and siblings.
"I was working outside my house to earn money and feed my family. I was in shock when I returned home. People told me all my family members, including my wife, had been transferred to hospital. Now my wife has a back injury, and has gone insane due to the shock," Ahmed, father of the family, told Press TV.
Saudi warplanes bomb Yemen's northwestern province of Sa'ada with banned cluster munitions.
Derhim was taken to the intensive care unit at al-Thawra Hospital, and had to undergo numerous surgeries. He had both lower legs amputated after the horrific incident.
"Doctors amputated his legs as they had grave shrapnel wounds. The cluster bomb had also seriously injured his head, and paralyzed the right side of his body," Doctor Khlowd M Doublah stated.
Cluster munitions, which are banned by more than 100 countries, present an enormous danger to civilians.
Dropped from the air or fired from the ground, they are designed to break open in mid-air, releasing the sub-munitions over a wide area in a way that cannot discriminate between civilians and military targets.
A political commentator says the United Kingdom has tried to conceal facts on selling cluster bombs to Saudi Arabia.
Many of the sub-munitions fail to explode on impact and effectively become anti-personnel mines. Unexploded sub-munitions have the potential to remain lethal for years, posing a high risk to the civilian population, both during and after the conflict.
Cluster bombs are banned under the Convention on Cluster Munitions (CCM), an international treaty that addresses the humanitarian consequences and unacceptable harm caused to civilians by cluster munitions through a categorical prohibition and a framework for action.
At least 13,600 people have been killed since the onset of Saudi Arabia's military campaign against Yemen in 2015. Much of the country's infrastructure, including hospitals, schools and factories, has been reduced to rubble due to the war.
The Saudi-led war has also triggered a deadly cholera epidemic across Yemen.
According to the World Health Organization's latest tally, the cholera outbreak has killed 2,167 people since the end of April 2017 and is suspected to have infected 841,906.
In November 2017, the United Nations children's agency, UNICEF, said more than 11 million children in Yemen were in acute need of aid, stressing that it was estimated that every 10 minutes a child died of a preventable disease there.
Additionally, the UN has described the current level of hunger in Yemen as "unprecedented," emphasizing that 17 million people were food insecure in the country.
The world body says that 6.8 million, meaning almost one in four people, do not have enough food and rely entirely on external assistance.