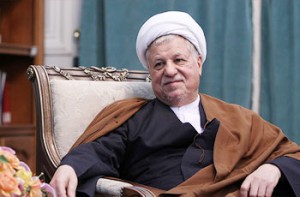 Head of Iran's Expediency Council Ayatollah Akbar Hashemi-Rafsanjani has hailed the "meaningful presence" of millions of Iranians on the streets to denounce the desecration of Ashura mourning ceremonies.
"The Islamic establishment became victorious and continues its existence by relying on the people," the Islamic Republic News Agency (IRNA) quoted Rafsanjani as saying on Saturday. "I hope the desecrators will learn a lesson from the meaningful presence of the people on the street."
He made the remarks in a reference to the millions of Iranians who took to the streets on Wednesday to denounce the desecration of the Ashura ceremonies.
During the Ashura mourning ceremonies on Sunday, the protesters reportedly chanted slogans against top Iranian government officials, vandalized public property and set trash cans ablaze, forcing the Iranian police to used tear gas to disperse the rioters.
Rafsanjani said the Wednesday rally also rendered ineffective the plots against the Islamic establishment. Iran blames Western countries for creating and orchestrating the unrest in the country that erupted following the presidential election in June.
In this regard, the Expediency Council chairman said, the Islamic Republic has achieved victory. He also urged for unity and empathy between the authorities and the public to ensure tranquility in the country.