Iran
Rafsanjani: High Turnout in February 11 Rallies Strong Support for Iranian Negotiators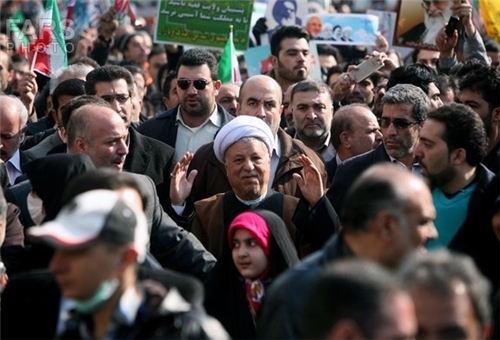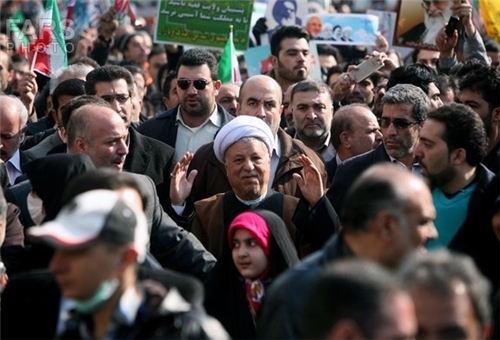 Chairman of Iran's Expediency Council (EC) Akbar Hashemi Rafsanjani hailed the Iranian nation for their high turnout in Bahman 22 (February 11) rallies, viewing it as a strong support for the country's negotiating team.
"The people's presence in the Bahman 22 (February 11) rallies serves as a very powerful backing for the Iranian nuclear negotiation team," Rafsanjani told reporters on Tuesday on the sidelines of Bahman 22 (February 11) rallies marking the 35th anniversary of the victory of the Islamic Revolution.
Rafsanjani called on the nuclear negotiators to use the people's strong backing in favor of national interests.
In similar remarks earlier in the same event, Iranian Parliament Speaker Ali Larijani also lauded the Iranian nation for its high turnout in the February 11 rallies.
"The high public turnout was even shocking for the enemies," Larijani told reporters on
He underlined that the massive turnout in the rallies will serve as best support for the Islamic system.
Millions of Iranians in Tehran and other cities throughout the country poured to the streets on Tuesday to show their unconditional support for the Islamic Republic through staging massive rallies on February 11th, marking the 35th anniversary of the victory of the Islamic Revolution in Iran.
Huge masses of people from all walks of life converged on streets and squares all over the country to express their support for the cause and ideals of the Islamic Revolution.
A large number of foreign reporters covered the Bahman 22 (February 11) rallies.
In Tehran, demonstrators then congregated at the Azadi Square, Tehran's main square and the site of major national rallies over the past three decades.
The nationwide rallies also prove to the world that the brave Iranian nation is fully ready to resist and challenge the enemies of Islam and the Islamic Republic.
Led by the Founder of the Revolution, Imam Khomeini, Iranians confronted the forces of US-proxy Mohammad-Reza Pahlavi in late 1977 to end his oppressive, cruel and autocratic rule over the country.
By December 1978, millions of Iranians would take to the streets in protest against the policies of the Shah on a regular basis.
Grand Ayatollah Ruhollah Khomeini returned from exile to Iran to be received by millions of cheering crowds after the departure of the Shah in mid-January 1979. Two weeks later, the country saw the victory of the Islamic Revolution.
The final collapse of the Shah's regime came on February 11 when the military renounced its loyalty to the Shah and joined the revolutionary forces.
On this day 35 years ago, people took to the streets to celebrate the collapse of the Pahlavi Dynasty and the emergence of the new era.