Iran
Raisi: Gov'ts should have comprehensive plan to resolve problems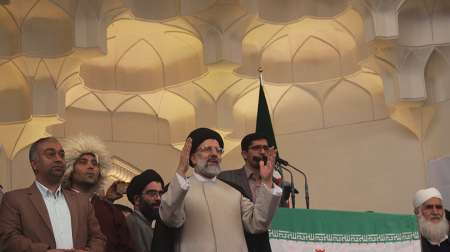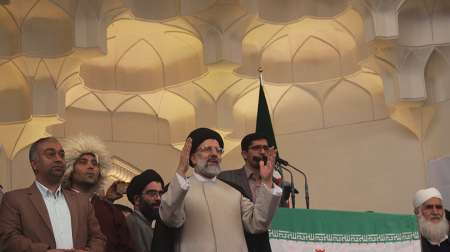 Presidential candidate of the upcoming presidential election Hojatoleslam Ebrahim Raisi said on Sunday that all governments should have a comprehensive plan to resolve problems.
"To attain the goal, we rely on the capabilities of academicians, domestic researchers and practical plan which could be implemented," he said.
Implementation of the program is much more important than having the plan itself, Raisi said.
There are many unheeded practical research in our universities which all should be taken into consideration, the presidential candidate added.
President should be capable enough to exercise patience under sensitive circumstances, he said.
'We believe that new changes to the benefit of people will be ideal," Raisi said.
Promotion of language of minorities, clothing styles and culture of Sunni minorities should be regarded as God given freedom and presidents are responsible to implement them, he added.
Upcoming president should not misuse Sunni minorities as an instrumental tool and respect their citizenship rights, Raisi said.
Our managers will put an end to all mottos and only mind to resolve the problems through taking proper actions, he said.
Fight against corruption and embezzlement is among major demands of people, the presidential candidate underlined.
Lack of liquidity has made 50 percent of the country's industry bankrupt, he said.
'With reliance on such huge capitals and various potentials, we should not have over five million of unemployed,' Raisi said.
'On constructing a wall, we believe your words, but we want to construct a wall between those trampling upon rights of people and legitimate rights of nation," the presidential candidate added.