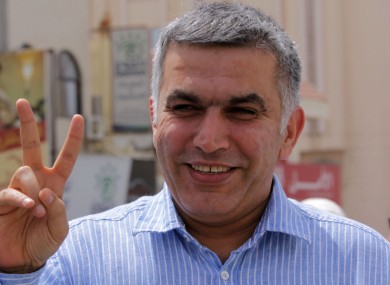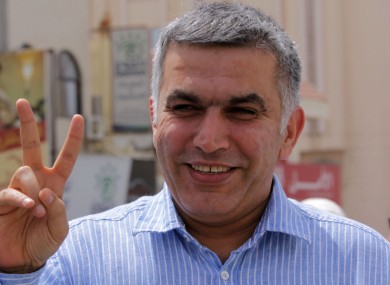 An appeals court in Bahrain reduced the prison sentence handed to prominent human rights activist Nabeel Rajab from three years to two.
The court upheld Rajab's conviction for encouraging "illegal gatherings".
Meanwhile, his lawyer, Mohammed al-Jishi, told the Associated Press that he was cleared of a charge of insulting police.
Rajab, the head of the Bahrain Centre for Human Rights, has been a leader of the pro-democracy protests which have rocked the kingdom since February 2011.
The 48-year-old is also one of the most well-known activists in the Arab world, with more than 185,000 followers on Twitter.
Rajab's wife, Sumaya, said she had spoken to him briefly in court on Tuesday after the appeal against his conviction was rejected.
"He told me he was not expecting two years. He was thinking that they would release him," she told the BBC.
The sentences were criticized by international rights groups, but the public prosecution claimed that Rajab had called in public speeches for "a demonstration to confront public security personnel, inciting violence and escalation against law enforcement officers, resulting in deaths during those confrontations."
On Monday, another activist, Zainab al-Khawaja, was sentenced a month in prison for entering the "prohibited area" of the former site of Manama's Pearl Roundabout – the focus of last year's unrest.
On another level, the Bahrain Center for Human Rights expresses concern over the continued attacks on religious freedom represented in the re-demolishing of mosques.
According to the center, since the beginning of December, government bulldozers demolished four mosques for the second time in the Hamad Town. The mosques have been under construction since they were initially attacked and demolished during the government crack-down in 2011.
This comes as no notification was given to the people or the municipalities representative.