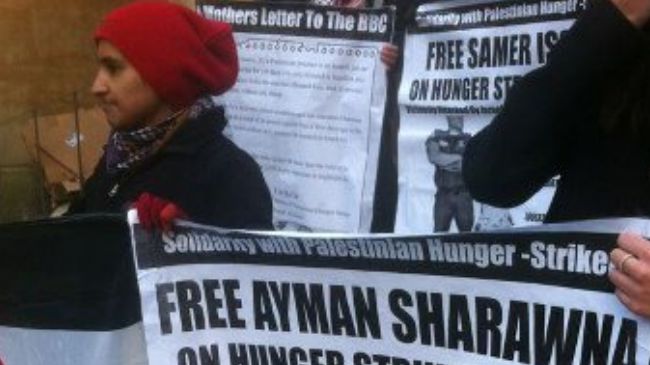 British campaigners have held a protest rally outside the BBC headquarters in London to voice outrage over the state broadcaster's news blackout on Palestinian prisoners' hunger strikes over the past six months.
Two Palestinian political prisoners named Samer Al-Issawi, and Ayman Sharawna have been refusing food for almost six months to gain release from Israeli regime's detention centers.
According to the London-based Islamic Human Rights Council (IHRC), Google returns over 21 million articles from the BBC website but none of them mentions Samer Issawi or Ayman Sharawna.
This is while, the BBC describes its mission as one to "inform" and "educate", claiming to provide "trusted World and UK news."
Protesters from the Palestinian Prisoners Campaign, which organized the Friday rally outside the BBC headquarters, called on the corporation to end its biased approach and cover the hunger strikes in a letter addressed to the BBC director general Tim Davie.
The demonstrators also carried placards reading "Free Samer Issawi" and "Free Ayman Sharawna", who were identified as detainees "imprisoned indefinitely without charge, without trial", and waived Palestinian flags outside the BBC building.
Al-Issawi and Sharawna were supposed to be discharged from the Israeli regime's prisons in October 2011, based on a prisoner exchange deal with the Palestinian resistance movement Hamas.
Hamas released Israeli trooper Gilad Shalit in exchange for the two but the Israeli forces re-arrested Al-Issawi and Sharawna after Shalit's release was secured.