Palestine
Ramallah: Abbas meets Zionist Israeli MKs and former generals in occupation army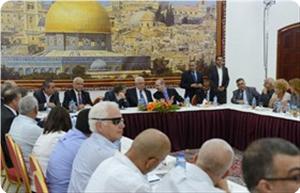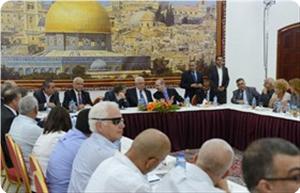 PA President, Mahmoud Abbas, met on Sunday with Zionist Israeli politicians and journalists at the seat of Palestinian Authority government headquarters, the Muqata.
PA's official news agency reported that Abbas welcomed, on Sunday, at his presidential headquarters in Ramallah, in the central West Bank, a number of MKs, mayors, political activists from Labor, Kadima, Meretz, and Likud parties, political and media figures, and retired generals in the Israeli army.
The news agency said that "Abbas stressed during the meeting on his determination to approach the UN General Assembly, to attain observer-state status for Palestine, in order to save the peace process."
Abbas told the MKs that he will resume negotiations with Israel, on a clear basis, which is the implementation of the principle of two-state solution, which is supported by the international community, added the agency.
It also quoted a number of members of the Israeli delegation as stressing on the need to continue the Palestinian-Israeli dialogue at all levels, especially at this critical stage, in order to maintain the continuation of the peace process.
The meeting coincided with the Israeli occupation military escalation against the Gaza Strip, which resulted in killing five Palestinians and seriously wounding others, on Saturday and Sunday.