Palestine
Middle East
Ramallah rises up in arms in support of Gaza
Palestinian armed groups start holding protests in the city of Ramallah in the Israeli-occupied West Bank in support of their fellow Palestinians in the Gaza Strip, who have come under a hugely deadly escalation by Tel Aviv.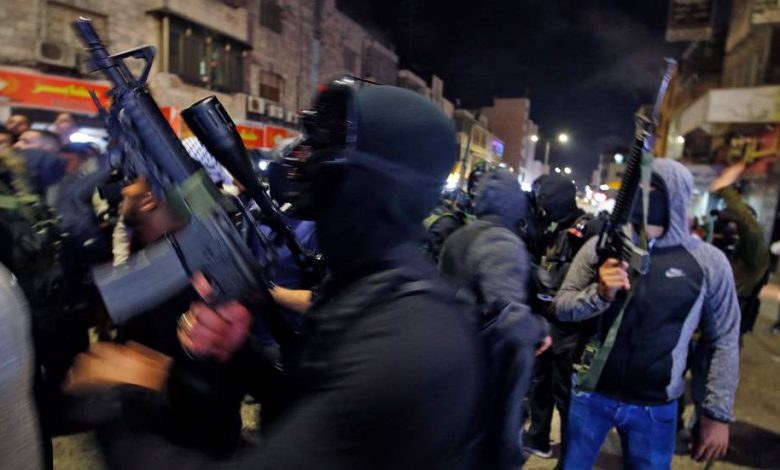 The al-Aqsa Martyrs' Brigades, a coalition of Palestinian armed groups in the West Bank, announced the decision on Monday.
They said they were holding the protests in solidarity with the resistance groups in Gaza, where a total of 212 people, including 61 children and 36 woman, have been martyred and 1,400 others been injured during the escalation.
The West Bank-based groups said they had been absent from the battle against the occupying regime for long, but were now springing back into action. They also warned the Israeli regime about the dire consequence of their actions.
The Israeli regime's latest attacks have attacked the central and northern parts of the Gaza Strip.
The regime intensified its attacks against Gaza last Monday after the territory rose in protest against the regime's weeks-long violations against Palestinians in the West Bank, especially the holy city of al-Quds.
The violations have seen Israeli forces and illegal settlers attacking Palestinian worshipers and protesters for weeks. The forces once attacked thousands of Palestinian worshipers on the al-Aqsa Mosque's compound in al-Quds' Old City and tried to evict Palestinians from the city's Sheikh Jarrah neighborhood on another occasion.
Most recently, a Palestinian was killed during the forces' attack on the al-Arroub refugee camp located north of the city of al-Khalil (Hebron) in the West Bank.
Palestinian resistance targets Israeli forces' gathering
Also on Monday, the Gaza-based Palestinian resistance movement of Hamas' military wing, meanwhile, said it had targeted a gathering of Israeli forces near the city of Sderot in the southern part of the occupied territories, in its latest bout of retaliation against the Israeli regime's incessant atrocities.
Ezzedine al-Qassam Brigades staged the counterattack against an area known as Nir Am near Sderot. Reports also showed that Sderot itself had also come under retaliatory rocket fire.