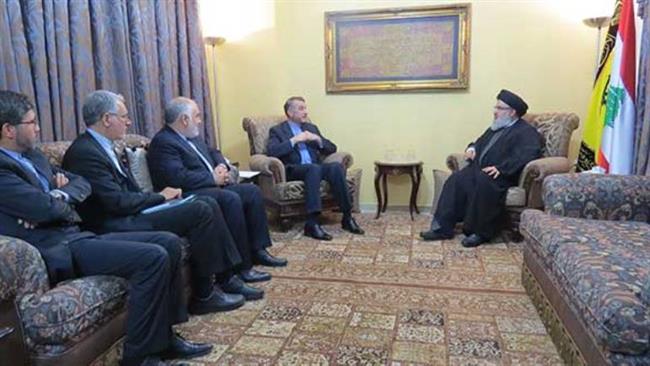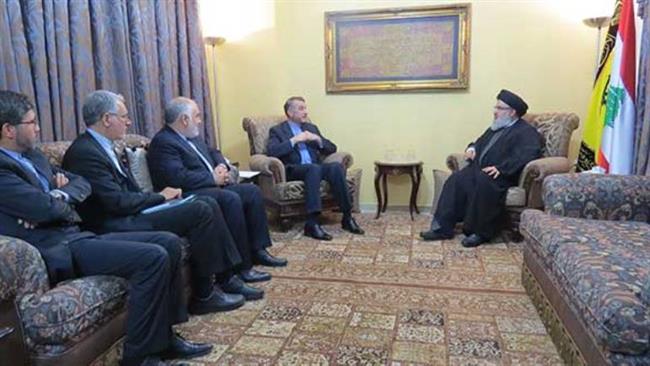 A senior Iranian diplomat has warned against Israel's plots in the region, calling on all regional countries to be "vigilant" against such conspiracies.
Iran's Deputy Foreign Minister for Arab and African Affairs Hossein Amir-Abdollahian gave the warning in a meeting with the secretary general of Lebanese Hezbollah movement, Sayyed Hassan Nasrallah, in the Lebanese capital, Beirut, on Wednesday.
The senior Iranian official said, "All countries in the region should be vigilant in the face of conspiracies by the Zionist regime; and Muslim countries must take care not to be consumed by the flames of war, extremism and terrorism because of imprudence on the part of certain parties."
"Iran always supports Lebanon's and the region's security and stability, and stresses national unity in Lebanon," Amir-Abdollahian also said.
Lebanon has been stuck in a political crisis since former President Michel Sleiman's tenure ended in May 2014, with the parliament still unable to choose a successor to him.
Lebanese political factions are split on numerous domestic and foreign affairs, causing a stalemate over the choice of president.
Public discontent has grown in the past weeks as the ongoing political deadlock has practically paralyzed the government.
"We back dialogue between the Lebanese and believe that foreign intervention leads to the intensification of problems in the region," Amir-Abdollahian said.
Nasrallah, for his part, described as highly significant Iran's role in establishing security and fighting terrorism and extremism in the region and stressed cooperation between all countries for the region's stability and in the fight against Takfiri terrorism.
The Hezbollah secretary general termed as destructive the role of Israel in the region, saying that Tel Aviv, given the current situation in the region, is focusing on the policy of aggression and expansionism.
He also pointed to a recent agreement between Iran and the P5+1 countries, congratulating the country's success to maintain and expand it nuclear technology.
Iran and the P5+1 countries – the US, Russia, China, France, Britain, and Germany – reached an agreement dubbed the Joint Comprehensive Plan of Action (JCPOA) over the Islamic Republic's nuclear program on July 14.