Iran
Middle East
Regional states must play active role in Mideast security: Iran president
Iranian President Hassan Rouhani urges all neighboring states to stand shoulder to shoulder against foreign interference in regional affairs and work collectively to safeguard the region and its strategic waters.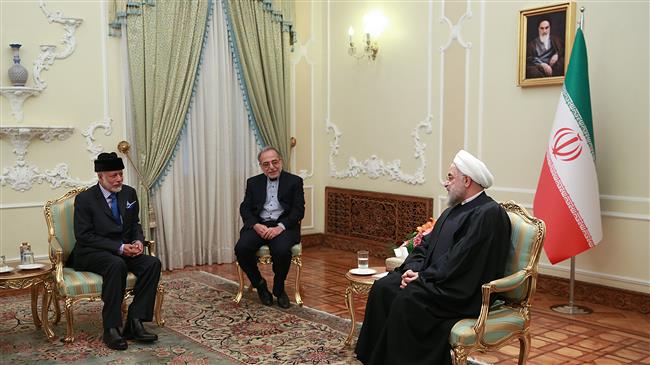 "Through the expansion of cooperation, we should establish security in the region, particularly in the Persian Gulf and the Strait of Hormuz, and should not allow foreigners to interfere," Rouhani said in a meeting with visiting Omani Foreign Minister Yusuf bin Alawi in Tehran on Tuesday.
He added that Iran has unveiled an initiative for regional security — known as Hormuz Peace Endeavor (HOPE) — with the purpose of boosting regional security.
Rouhani was referring to the plan he introduced to the world leaders in September at the 74th session of the UN General Assembly, where he took the podium to invite all countries affected by tensions in the Persian Gulf region to join a coalition meant to enhance friendship and promote "peace, stability, progress and welfare" for regional nations.
The Iranian president further added that Iran sees no problem in expanding ties with its neighbors and resuming diplomatic relations with Saudi Arabia, saying all countries should stand together in order to ensure security and stability in the region.
Rouhani hailed Tehran's cordial relations with Muscat in different fields and said the Islamic Republic "attaches special significance to the expansion of ties and cooperation with its neighbors, particularly with Oman."
Europe, US don't favor peace in Yemen: Rouhani
Elsewhere in his remarks, the Iranian president drew attention to the crisis in Yemen as one of the most important issues facing the region and said "the [Saudi-led war on Yemen has had no achievement but destruction, massacre of people, hatred and grudge between the two countries' nations and threats to Yemen's territorial integrity."
"Despite their superficial claims, Europe and the US are unfortunately not interested in the restoration of peace to Yemen because they have been able to sell huge amounts of arms," Rouhani added.
He stressed the importance of promoting cordial relations among regional countries and nations, saying, "We should all make efforts to end the war in Yemen as soon as possible and bring stability and security to this country in the framework of Yemen-Yemeni peace talks."
Rouhani also called for humanitarian aid delivery to the Yemeni people and expressed hope that peace efforts by Iran and Oman would lead to the establishment of peace, stability and security in the region and the enhancement of friendship and brotherhood among nations.
Iran believes that regional countries should work together to solve the existing problems, he said, adding, "The policies of the Saudi government in Syria, Iraq and Lebanon have brought no gains for them and we hope that this country's officials will change their path of politics."
Iran welcomes any initiative aimed to ease tensions in Middle East: FM ZarifThe Iranian foreign minister says Tehran welcomes any initiative that helps reduce tensions in the Middle East.
Saudi Arabia and a number of its regional allies have been engaged in a devastating campaign against Yemen since March 2015 with the goal of reinstating a former Riyadh-friendly government there.
The US-based Armed Conflict Location and Event Data Project (ACLED), a nonprofit conflict-research organization, estimates that the war has so far claimed more than 100,000 lives.
Hormuz Peace Endeavor beneficial to regional stability, security: Alawi
The top Omani diplomat, for his part, said the expansion of bilateral relations will serve the interests of all countries in the region.
Alawi noted that Tehran and Muscat have a similar stance on many regional and international issues, adding that Iran's Hormuz Peace Endeavor would definitely be beneficial to all countries and help develop stability and security in the region.
Alawi arrived in Tehran on Monday on his third trip to the country over the past nine months. Prior to his talks with Rouhani, he met with his Iranian counterpart Mohammad Javad Zarif and Secretary of Iran's Supreme National Security Council Ali Shamkhani and Parliament Speaker Ali Larijani.