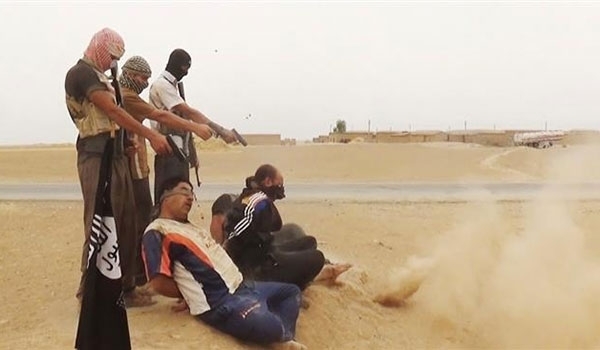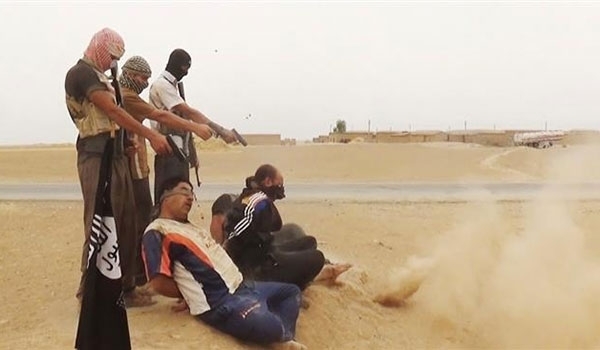 Several senior commanders of the ISIL were executed by their own comrades in the city of Kirkuk in Northern Iraq, media reports said.
At least five senior commanders, including a former colonel of the Iraqi army, were executed in al-Huweija town for trying to escape from the ISIL, the Arabic-language Sumeria news channel quoted an unnamed informed source as saying on Tuesday.
The executed ISIL commanders were captured few days ago while they were trying to flee from Hamrin mountainous region.
"The ISIL abandoned the dead bodies of their comrade without even allowing their families to bury them," the source added.
In a similar incident earlier this month, the ISIL terrorist group executed 43 of its own militants on charges of leaving the battlefields and escaping war against the Syrian army.
"The ISIL arrested and killed 43 of its own members on charges of trying to escape to Iraq after the groups' failures in clashes with the Syrian Army and popular forces in the Eastern province," the sources said.
Also in late January, several senior commanders of the ISIL terrorist group were executed by the ISIL in Kirkuk.
Four senior ISIL commanders, including Abu Saeid al-Araqi, were executed along with three other militants in Tal Kasiba region in the Northern part of Salahuddin province, Iraqi popular forces' commander Jabar al-Ma'amouri said.
Al-Araqi was a notorious ISIL commander in the Northern part of al-Meqdadiya region before Iraqi troops took it back on January 25.
Al-Ma'amouri noted that the ISIL is trying to compensate for its recent defeats against the Iraqi forces by executing its own commanders who have lost the ground to the government troops.
Also in late December, the ISIL Takfiri terrorist group killed at least 50 of its own militants in the city of Ramadi after they disobeyed orders to wear suicide belt and prepare for fatal attacks.