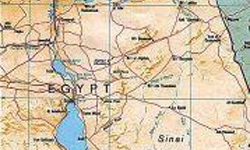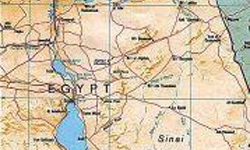 Israel is exercising a new plot to completely Judaize the Sinai desert and separate it from Egypt, an Egyptian media report said.
Newly obtained documents show that the purchase of Sinai lands by Israeli Arabs who had a Palestinian nationality in 1948 is considerably on the rise replacing others who bear a non-Israeli citizenship, the Al-Fajr news website reported.
The selling of Sinai lands to the Israeli citizens takes place at a time when Egyptian citizens themselves are prevented from buying them on different false pretexts posed by the Egyptian government, the report quoted Egyptian pundits as saying.
The same sources said that Israel is pursuing two objectives by pushing its Arab citizens to the Sinai desert; firstly, to separate the desert from Egypt in order to obviate its security concerns caused after Egyptian revolution on January 25, and secondly, to get rid of its Arab population who have settled in Israel since 1948.
The Israeli military occupied Sinai during its Six-Day war with Arab states in June 1967.
By 1982, all of the Sinai was returned to Egypt. The central government divided the Sinai desert into two governorates, North Sinai with al-Arish as its capital and the South Sinai with At-Tur as its capital.
Israeli has long been pursuing a Judaization plot to change the identity of the region. Ever since the 1967 Six-Day War, Israel has been increasingly exercising its Judaization scenario all across the occupied lands in Palestine and the Golan Heights (in Syria).
Last year, Israel's inner cabinet decided to speed up construction of homes for Jews in Arab East Quds (Jerusalem) and in other nearby settlements to punish the Palestinians for winning membership in the UN cultural agency, UNESCO.
Since then, Israel has issued announcements for the construction of 2,057 new homes in Arab East Quds and 1,241 in the West Bank, official figures show.
At least 200,000 Israelis live in a dozen settlement neighborhoods in East Quds (Jerusalem), which was captured by Israel in 1967 and annexed in an aggressive move never recognized internationally.