Europe
World News
Report suggests Europe's COVID-19 deaths may be much higher than official figures
A British daily has published a report suggesting that deaths from the COVID-19 outbreak in Europe may be much higher than official figures.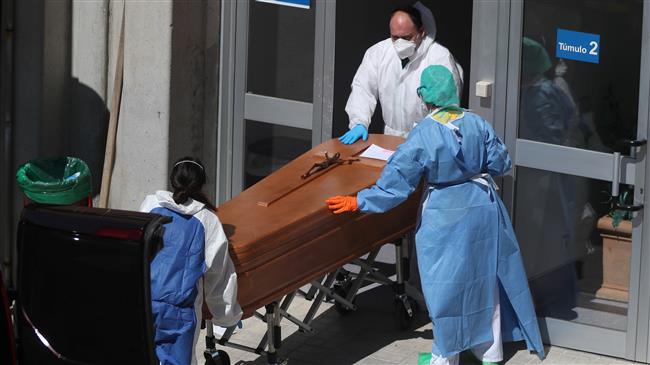 The Daily Mail published a report on Friday citing Belgium's model of registering its coronavirus deaths to suggest that other European countries might be under-reporting their fatalities.
"Belgium has the highest number of daily coronavirus deaths per head of population of any country in the world – but ministers say this is only because they are being more transparent with their data," the tabloid wrote.
Despite having a small population of 11.6 million people, the northwestern European country has reported 5,163 deaths as of Friday, according to Reuters.
The country consequently ranks as among the world's top countries in total number of COVID-19 deaths despite its small population.
The Daily Mail said the high death toll may be because Belgium, unlike other European countries, is counting deaths outside of hospitals and among patients who had COVID-19 symptoms but had not been tested.
Such deaths, the report said, "account for almost half of Belgium's total, meaning that the true scale of coronavirus deaths in other countries could be double the official figures if that trend is replicated elsewhere."
The tabloid also cited a report by Belgium's Federal Public Service for Health saying that only 49 percent of coronavirus deaths happened in hospitals where coronavirus cases had been confirmed.
It added that another 49 percent died in care homes, with another one percent dying in other locations.
"Of the deaths that occurred in care homes, 94 per cent had not been diagnosed with coronavirus but did have suspected symptoms," the daily wrote. "This means the country's death total would have almost halved, if it had used the same methods as other European nations."
There have been reports of European countries neglecting citizens in care as thousands have reportedly died in care homes across Britain, France, Italy, and Spain, the worst hit countries in Europe.
Hard-hit European countries berated over care home deathsThousands of people have reportedly died from COVID-19 in care homes, many of which have not been officially announced, that is a clear sign of the scale of fatalities outside health care services in Europe.
As of 1400 GMT on Friday, more than 2.18 million confirmed coronavirus cases have been reported across the world, and 147,265 people have died, according to a Reuters tally.