Iraq
Middle East
Syria
Report: Thousands of Iraqi Troops Preparing for Joint Anti-ISIL Military Operations with Syrian Army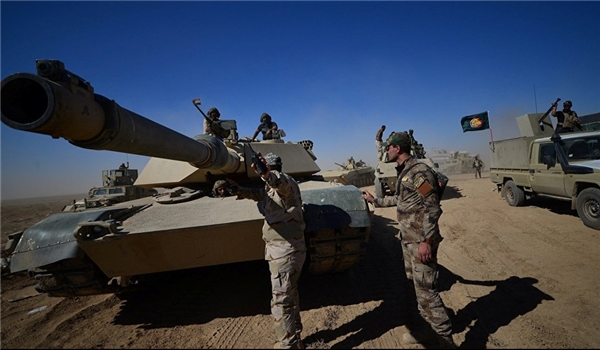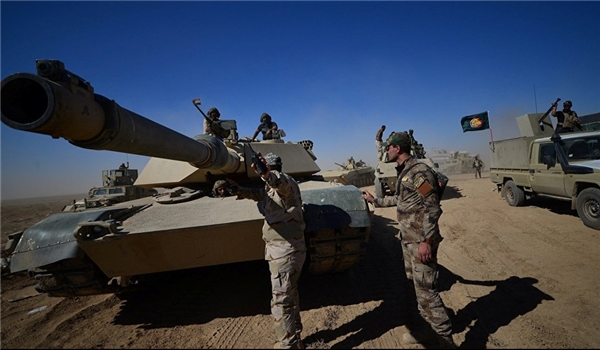 Over 30,000 Iraqi Army troops backed by the Russian Air Force have lined up for launching joint military operations with the Syrian Army against the remnants of the ISIL terrorist group in Eastern Syria, an Arab media report said.
The Iraqi Army troops are standing orders to join the Syrian Army for an imminent battle against the ISIL along Iraq-Syria borders, Al-Etejah Press quoted an Iraqi military source as saying on Wednesday.
The source said over 30,000 Iraqi soldiers are now behind the borderline in order to enter Syria's Eastern deserts (Badiyeh) and engage in battle with remaining ISIL terrorists along the border.
The source noted that Iraq's Hashd al-Sha'abi (Iraqi popular forces) plan to actively take part in the anti-ISIL operations.
He noted that the military operations will soon start, and said the Syrian and Iraqi governments have done the needed coordination to launch the joint assault on ISIL in cooperation with the Russian Air Fore.
In relevant remarks on Tuesday, a senior commander of Iraq's Hashd Al-Sha'abi (Iraqi popular forces) in Al-Anbar Province underlined that his forces have prevented the US Army's spying on security units along borders with Syria.
"The US troops are trying to obtain precise and sensitive intelligence from Iraq's security forces along borders with Syria," the Arabic-language Al-Maloumeh news website quoted Qassim Muslih, the commander of Hashd al-Shaabi forces in al-Anbar province, as saying.
He reiterated that Hashd al-Sha'abi operations command has stopped US spying operations by preventing the US troops from getting close to Hashd al-Sha'abi units and forcing them to return to Ba'er al-Morasemeh base.
Muslih pointed to the US forces' reconnaissance operations along Iraq-Syria borders and questions from border police and Iraqi army about the battle zones off the border regions, the amount of ammunition, type of weapons and the number of troops of each region, and explained that secret intelligence related to the forces stationed along the border regions helps them to easily target any region.
He pointed to the provocative measures by the US troops to obtain secret information from border security guards, and warned that the move is a blatant violation of Iraq's national sovereignty.