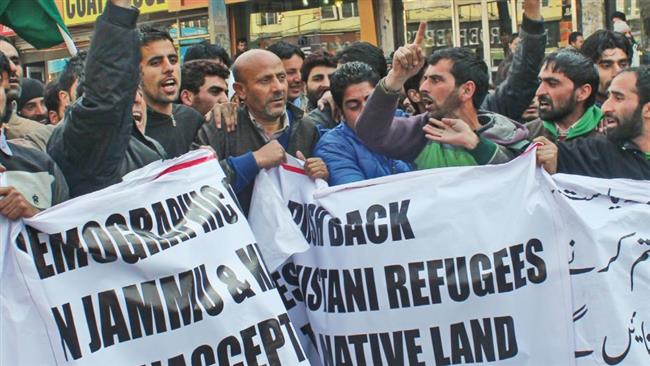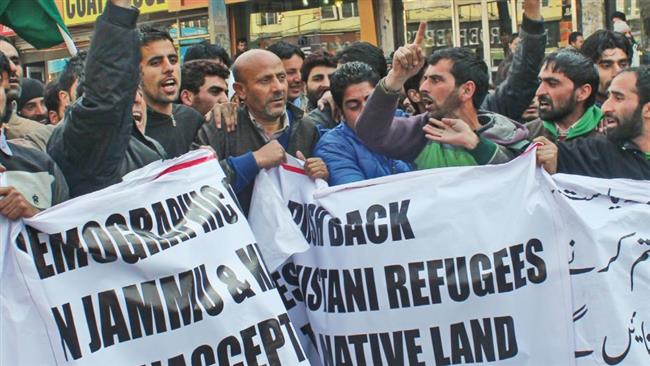 A proposal being discussed by the Indian parliament to grant permanent resident status and voting rights to non-Muslim refugees in Kashmir has triggered massive controversy, Press TV reports.
The Indian Parliamentary Standing Committee on Home Affairs is working on a proposal to grant 'permanent resident' status to the mainly non-Muslim refugees from erstwhile West Pakistan in the Muslim majority Indian-controlled Kashmir.
The idea, however, has stirred huge criticism among the people and activists. Pro independence groups, mainstream politicians as well as civil society activists, are strongly opposed to the motion.
Syed Ali Geelani, a respected religious leader in the Indian-controlled Kashmir, has strongly criticized the move, saying that New Delhi seeks to reduce the population of Muslims in the region and turn them into a minority.
Based on the recommendations tabled by India's Home Minister Rajnath Singh, the children of the refugees get free education and training along with the residency status in troubled Kashmir while each family gets USD 40,000 in aid plus the chance to join the army or enter government employment.
These refugees who for long have been seeking rights in India also insist on residence and rights but somewhere other than Kashmir.
While India plans to settle the erstwhile West Pakistan refugees in disputed territory, there are other refugees who continue to await resettlement after living in the country for decades.
Political groups in Kashmir have warned the Indian government of agitation if this recommendation is approved by the Indian parliament. Politicians say this move is part of the ruling Bharatiya Janata Party's hidden agenda to turn Muslims of Kashmir into a minority.