Syria
Residents of Syria's Golan Heights vow to end Zionist Israeli occupation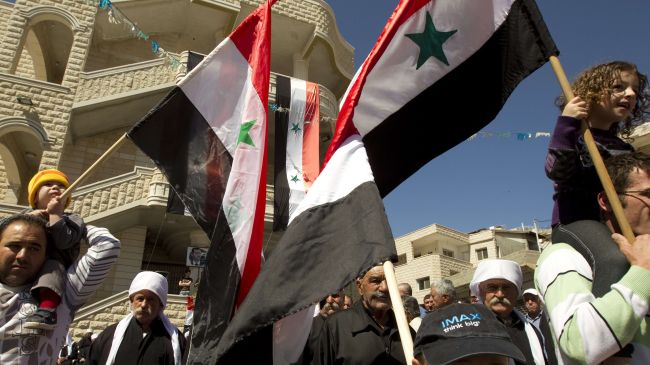 The residents of Syria's Golan Heights have marked the 45th anniversary of the occupation of their land by Zionist Israel, voicing determination to put an end to Zionist Israel's presence in the territories.
In a Tuesday statement issued on the anniversary of the Naska Day, marking Israel's occupation of the Golan Heights, the West Bank and the Gaza Strip during the 6-Day War of 1967, the residents of Golan stressed that they will not rest until their territories are liberated from Israeli decades-long occupation.
The statement added that the liberation of the occupied lands and the collapse of the Zionist Israeli regime are definite.
More than 400,000 Syrians, who were displaced following the Zionist Israeli aggression, are now in other Syrian cities and call for return to their homeland.
Following Zionist Israel's attack, more than 240 villages, 110 farmlands and two Syrian towns were razed to the ground. Meanwhile, the residents of five villages who refused to abandon their homelands, weathered Tel Aviv's aggression following the deployment of the UN forces in the region.
On October 6th, 1973, the Syrian army liberated the town of Quneitra, the capital of the Quneitra Governorate, and 100 square kilometers of its suburbs. However, 1200 square kilometers of Golan's valuable territories are still under Israeli occupation.
Zionist Israel continues to exploit the natural resources in the occupied Golan Heights. Every year, Zionist Israel pumps millions of gallons of water from all over the occupied territories and diverts them to Zionist Israeli settler's farms.