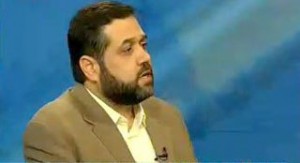 Representative of the Palestinian Islamic Resistance Movement (Hamas) in Lebanon said resistance has become a decisive factor in the region, IRIB reported on Wednesday.
Addressing a cultural meeting in a Palestinian refugee camp in Damascus, Osama Hamdan said the hard efforts of resistance have blossomed in southern Lebanon and Gaza.
He added that resistance victories over the Zionist regime had lifted up the Arabs from spirit of submission.
Hamdan referred to the ongoing conflict between resistance groups and compromiser Palestinians and said, "Resistance will be victorious in the end because Palestinian people are standing by them."