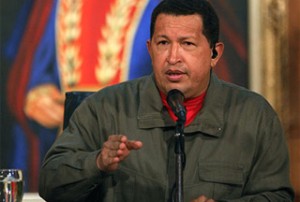 Venezuelan President Hugo Chavez has called on Queen Elizabeth II of Britain to leave the disputed Malvinas (Falklands) Island to Argentina, saying that the time of empires have long expired.
"Look, England, how long are you going to be in Las Malvinas Queen of England, I'm talking to you… the time for empires are over, haven't you noticed? Return the Malvinas to the Argentine People," AFP quoted Chavez as saying in his weekly TV and Radio address "Alo Presidente" on Sunday.
The Latin American leader warned that in the event of a war over the island, Argentina would not be alone.
"The English are still threatening Argentina. Things have changed," Chavez continued, still addressing Queen Elizabeth II. "We are no longer in 1982. If conflict breaks out, be sure Argentina will not be alone like it was back then."
The British claim over the archipelago is "anti-historic and irrational," said Chavez, asking "why the English speak of democracy but still have a queen?"
The dispute over the Malvinas Island arose between Buenos Aires and London after Argentina found that Britain was planning drilling for oil near the islands that lie around 500 kilometers off the coast of Argentina and almost 13,000 kilometers away from the UK.
Britain deems the southern Atlantic archipelago as part of its sovereign territories, with Prime Minister Gordon Brown reportedly hinting at a possible confrontation in the event of a clash.
Earlier on Friday Chavez had also slammed the US and the UK for what he described as their 'oil hunger' that had sparked tensions over drilling plans near the Falklands or Las Malvinas.