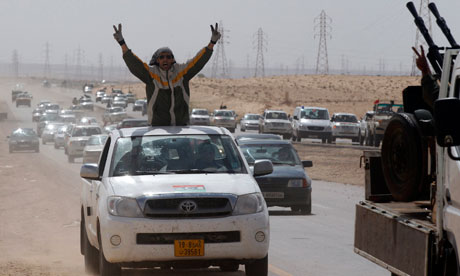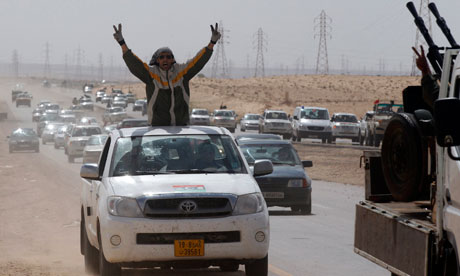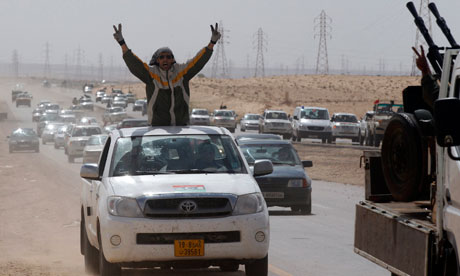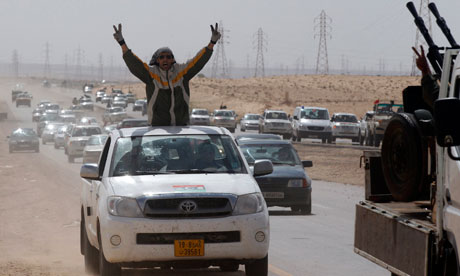 Libyan Revolutionary fighters were pushing their advance on Sunday after recapturing Ajdabiya and Brega from Moamer Gaddafi's forces in their first major victories since the launch of Western-led air strikes.
The fighters, who were in danger of losing their eastern stronghold city of Benghazi before the strikes were launched on March 19, on Saturday seized back these two key towns, 160 and 240 kilometers to the west. They were on Sunday eyeing Al-Bisher, a town another 30 kilometers west along the road to Gaddafi's hometown of Sirte.
In Tripoli, government spokesman Mussa Ibrahim said late Saturday that coalition air strikes were killing soldiers and civilians along the road between Ajdabiya and Sirte. "We are losing many lives, military and civilians," he added while repeating a call for a ceasefire and an urgent meeting of the UN Security Council.
Libya's opposition's interim national council leader Mahmud Jibril said his people no longer needed outside help, in a letter to French President Nicolas Sarkozy. "The Libyan people see you as liberators. Its recognition will be eternal," he wrote. But he added: "We do not want outside forces. We won't need them. We will win the first battle thanks to you. We will win the next battle through our own means."
But US Defense Secretary Robert Gates, in an interview set to air Sunday, accused Gaddafi's forces of planting bodies "of the people he's killed" at the site of allied air strikes, to make it look as they were civilian victims.
US President Barack Obama, under pressure to explain his strategy to Americans, said the international mission had saved countless innocents from a "bloodbath" threatened by Gaddafi.
In Libya's west, French fighter jets destroyed at least five warplanes and two helicopters from pro-Gaddafi forces in the Zintan and Misrata regions on Saturday, said a statement on the French armed forces website.
British warplanes destroyed five Libyan armored vehicles in air strikes on Ajdabiya and Misrata on Friday, the defense ministry in London said.
On Saturday, the opposition, backed by the Western barrage, poured into Ajdabiya, where destroyed tanks and military vehicles littered the road.
Opposition spokesman Shamsiddin Abdulmollah told reporters in Benghazi that Ajdabiya was "100 percent in the hands of our forces." Gaddafi's forces were "on the back foot… because they no longer have air power and heavy weaponry available" after a week of bombing by coalition warplanes, he said.
But in Libya's west, where the capital Tripoli and most of Gaddafi's support is located, fighters reported Misrata was under government fire before coalition warplanes intervened.
At least three people were killed in Misrata on Saturday, a doctor contacted by AFP said, bringing to 117 the number killed there, with more than 1,300 wounded in a week of attacks by Gaddafi forces.