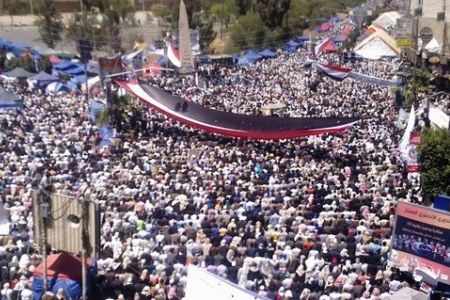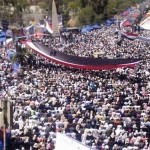 Revolutionary people of Yemen held fresh rallies in the capital Sana'a to voice anger at increasing attacks by regime forces on residential areas, Press TV reports.
The demonstrations were held on Saturday in solidarity with the residents of the southern city of Taizz.
On Friday, heavy shelling by regime troops killed 17 people and wounded dozens more in Taizz. The neighborhoods of al-Rawdah and Zeid al-Mushky, which have been at the forefront of anti-regime protests, were also shelled by government forces.
The protesters also plan to gather in front of the United Nations offices in Sana'a to condemn the international community's silence on the regime attacks on civilians.
Taizz has been a focal point of tensions since protests against Yemen's US-backed dictator Ali Abdullah Saleh erupted earlier this year.
Saleh has so far rejected domestic and international calls on him to step down.
Meanwhile, despite heavy crackdowns by security forces on anti-regime protests, tens of thousands of protesters poured onto the streets across Yemen on Friday to call for the immediate ouster of dictator Saleh.
Chanting anti-regime slogans in Sana'a, demonstrators denounced the US and israel-backed Saleh regime's brutal crackdown on peaceful demonstrators and called for his prosecution for the violent suppression of protesters.
"We adopt this Friday as a day of no immunity for the killers and we call on the UN to hand over Saleh's file to the international criminal court so he can be prosecuted," Abu al-Fadhil, the defected deputy insurance minister, told Press TV during the protests in Sana'a on Friday.
"We youth protesters do not depend much on the UN Security Council resolution which has not met our aspiration, we reject any initiative that gives Saleh immunity from prosecution," political analyst Nabil al-Yousfi said.
The development came one day after the UN envoy to Yemen, Jamal Benomar, returned to Sana'a to begin a new mission to pressure Saleh to quit under a power transition deal brokered by Persian Gulf Arab states.
Saleh, who has been in power for almost 33 years, has repeatedly vowed to sign the initiative and hand over power to his deputy, but has backed out at the last minute.
Hundreds of thousands of Yemenis have been holding anti-government demonstrations since January to demand an end to Saleh's rule.