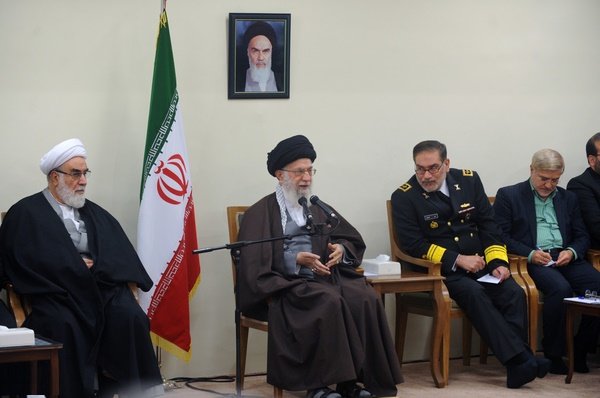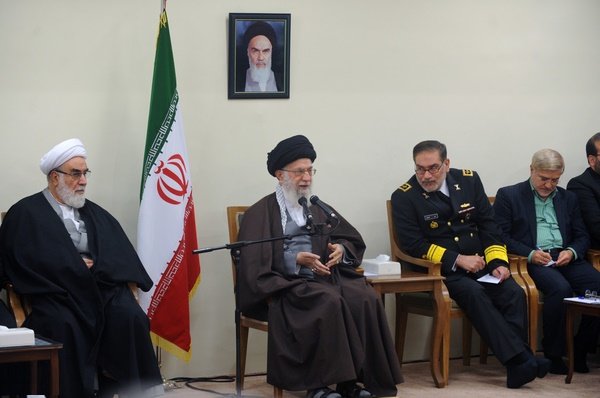 Leader of the Islamic Revolution has said 'a Revolutionary sentiment and staff' would best help Supreme National Security Council to attend its crucial duties accurately.
Ayatollah Khamenei received Rear Admiral Ali Shamkhani and a number of his deputies and SNSC secretariat staff on Wednesday where he pointed that 'security' was a sophisticated and multidimensional concept, and that "the Supreme National Security Council is a body to make decisions in grand scale of security and the secretariat specially has a mission to provide accurately explored path for making such decisions; to do this great job, the SNSC should be dominated with a Revolutionary mentality well informed with values and tenets upheld by the system," he told the meeting.
"SNSC secretariat should help make decisions to guide the Council's even greater decisions in a direct path which is well-explored and is free of barriers and threat, while considering different dimensions of this complex issue; only through a Revolutionary mentality and view would the Secretary attend its missions with success," Ayatollah Khamenei demanded.
"When we speak of 'Revolutionary sentiments and views,' we mean a series of real-life and concrete values well-evident and clearly expounded in the body of the totality of works of Imam Khomeini (RA) collected as a compendium of his intellectual legacy, and they are not imagined and abstractions of thought without any worldly base," he detailed. "According to Imam's tenets, 'people,' 'country's independence,' 'adherence to Islamic values and tenets,' 'defying imperialism and hegemonic powers,' 'Palestinian cause,' 'supporting the down-trodden,' and 'public welfare' are the most important defining elements of a Revolutionary worldview."
"Today, the enemy has embarked on its sophisticated methods to affect the culture, faith, society, and security of the nation, which has made this confrontation more difficult than ever; this mechanism functions in silence, imbuing all aspects of security, leaving no trace whatsoever,' Ayatollah Khamenei emphasized. "The SNSC should decide in all of this issues; on this premise, it should foster expertise and indefatigable staff who are at the same time Revolutionary and help make face and tackle new security threats."