Bahrain
Rights Activist Skeptical about Western-Puppet Al-Khalifa's Call for Talks with Opposition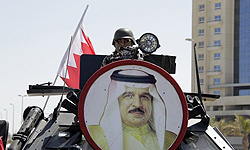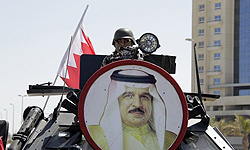 A prominent Bahraini rights activist voiced skepticism about the ruling al-Khalifa regime's offer of talks with the opposition, and called for the trial of a number of Bahraini officials, specially Foreign Minister Khalid bin Ahmad bin Muhammad al-Khalifa, for their crimes against humanity.
"The Bahraini foreign minister should be tried for committing crimes against religious freedom," Secretary-General of Europe and Bahrain Human Rights Organization Hossein Javad said in an interview with Iran-based Arab-language news channel, Alalam, on Wednesday.
"A person who has a hand in such crimes cannot raise the idea of reconciliation in Bahrain; the pervasive and deep-rooted (underlying) reforms in Bahrain will be materialized not by words but by practical measures like releasing activists (from al-Khalifa jails)," he added.
His remarks came after Bahraini Crown Prince Salman bin Hamad as the representative of al-Khalifa family called for dialogue with the country's opposition to break a deadlock in the restive Persian Gulf Arab state, an appeal met with skepticism by rights activists. The ruling Al-Khalifa family used martial law and help from their Persian Gulf Arab neighbors to put down uprisings in March last year, but to no avail.
Protesters and police clash almost daily as Demonstrations are banned.
"I call for a meeting between all sides, as I believe that only through face-to-face dialogue will any real progress be made," Prince Salman said late on Friday in an address to a conference on Middle East security organized by the International Institute for Security Studies.
No opposition figures were invited to the conference. "We know dialogue would help solve the problems in Bahrain, but we don't see any positive messages from the authorities," said Mohammed al-Maskati, head of the Bahrain Youth Society for Human Rights. "The repression is ongoing, people are facing unfair trials, activists are in jail… You have to ask – if he is serious, why doesn't he make this address at a national level? It's just propaganda by the authorities," he said.
Anti-government protesters have been holding peaceful demonstrations across Bahrain since mid-February 2011, calling for an end to the al-Khalifa dynasty's over-40-year rule, end of discrimination, establishment of justice and a democratically-elected government as well as freedom of detained protesters.
Violence against the defenseless people escalated after a Saudi-led conglomerate of police, security and military forces from the Persian Gulf Cooperation Council (PGCC) member states – Saudi Arabia, Kuwait, the United Arab Emirates, Oman and Qatar – were dispatched to the tiny Persian Gulf kingdom on March 13, 2011, to help Manama crack down on peaceful protestors.
So far, tens of people have been killed, hundreds have gone missing and thousands of others have been injured.