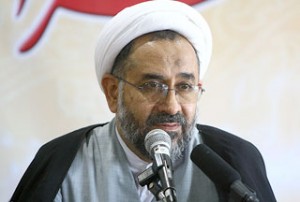 "The move by the anonymous soldiers of Imam Zaman (PBUH) in arresting Abdul-Malek Rigi was a 5-month move of intelligence management which started after the martyrdom of General Shoushtari and his comrades and today paid off successfully," said Intelligence Minister Hojjatoleslam Heidar Moslehi.
IRI's Intelligence Minister showed Abdul-Malek Rigi's photograph which was taken 24 hours ago in the American headquarters in Afghanistan and the terrorist villain's ID card and passport that were provided by the Americans.
"This terrorist villain was taken through the strait of Gibraltar to a European country in June and July 2008 where he was asked to carry out sabotage operations in Iran," Moslehi told reporters.
Stressing that Rigi's visit was arranged by the Britons helped by the Americans, Intelligence Minister added: "There are more remarkable documents in this regard which will be revealed later by the anonymous soldiers of Imam Zaman (PBUH) to the people."
"The moves made by this terrorist villain guided by Mossad, CIA and European intelligence services include attacking passenger buses, blind killing of innocent people, bombing mosques and other brutal moves," Moslehi said.
"The remarkable point is that they boasted the crimes of this terrorist villain through BBC and VoA," Intelligence Minister added.
Referring to the Zionist regime's terrorist act in Dubai which is called Dubai Gate, Moslehi said: "Mossad by its move in Dubai was seeking with the help of Europeans to turn our region where they killed Hamas member as well into a haven for terrorist operations."
"Exactly in this regard, they were also following this terrorist villain to take him through Dubai to one of their regions and hold negotiations with him to guide and manage more terrorist acts in Iran," he added.
"Iran has issued many warnings to the intelligence services of England and America and some other countries in the region so that they cooperate with us to detain this terrorist villain," Intelligence Minister said.
"Without any cooperation by intelligence services especially the intelligence services of regional countries with Iran, the anonymous soldiers of Imam Zaman (PBUH) in a valuable, precisely calculated move of intelligence management put this terrorist villain under intelligence control and with this management, Rigi was detained in the space of the Islamic Republic," Moslehi added.
"God willing, this detained terrorist villain will be submitted to the Judiciary System to perform justice," he concluded.