Asia-Pacific
Myanmar
Rohingya are said to be Muslim descendants of Persian, Turkish, Bengali, and Pathan origin, who migrated to Burma as early as the 8th century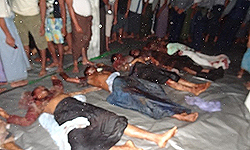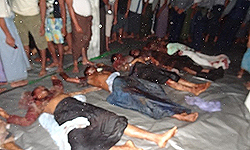 Activists around the world lashed out at Myanmar's opposition leader and Nobel Peace laureate Aung San Suu Kyi for her silence on the massacre of the Muslim minority in the Southeast Asian country.
Suu Kyi is under criticism as she also refused to condemn Zionist Puppet President Thein Sein, a former military general, for endorsing policies of ethnic cleansing against the Muslim minority.
Thein Sein said earlier this month that Rohingya Muslims must be expelled from the country and sent to refugee camps run by the United Nations.
The government of Myanmar refuses to recognize Rohingyas, who it claims are not natives and classifies as illegal migrants, although the Rohingya are said to be Muslim descendants of Persian, Turkish, Bengali, and Pathan origin, who migrated to Burma as early as the 8th century.
Ironically, just days after she received a peace prize, Suu Kyi told reporters she did not know if Rohingyas were Burmese.
Activists, who used to support the world famous symbol of human rights through her years of imprisonment and isolation, now accuse her of ignoring the most pressing human rights issue in her country today, press tv reported.
"It's disappointing, she is in a difficult position, but people have been disappointed she hasn't been more outspoken," said Anna Roberts, executive director of the Burma Campaign UK.
"She passed up opportunities to say good things on this," said Brad Adams, Asia director of Human Rights Watch.
"This was all blowing up when she was travelling in Europe and she didn't confront it," he added, referring to her recent foreign tour to London, Dublin, Paris and Oslo.
Some analysts say her inaction is politically motivated.
Suu Kyi's National League for Democracy looks ahead to elections in 2015. They say Suu Kyi fears that expressing support for the Muslim minority could jeopardize her campaign.