Europe
Romanian protests against Canadian project enter fourth week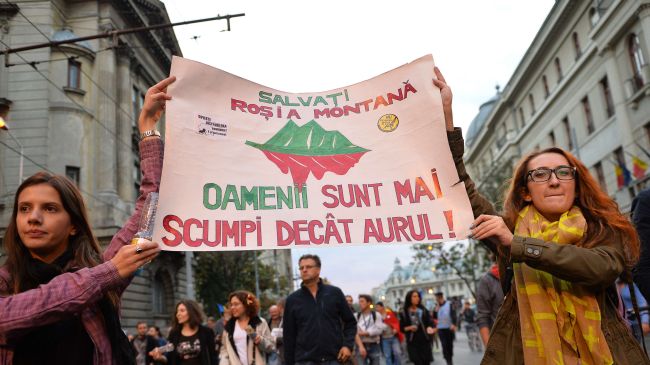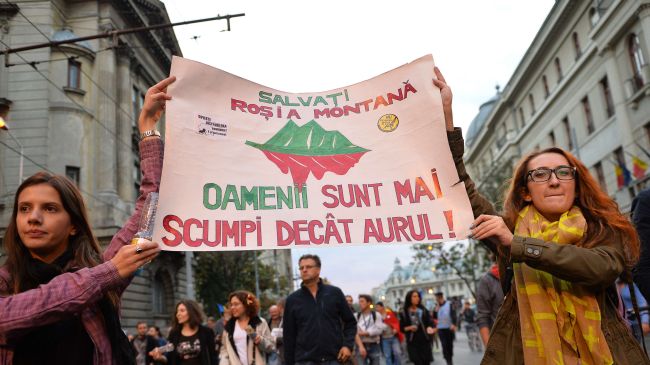 Thousands of Romanians have taken to the streets in a fourth week of protests against a controversial Canadian project that would open Europe's largest gold mine.
Some 15,000 people gathered in the capital of Bucharest on Sunday to voice their opposition to the plans.
"What worries me is that they will destroy nature and our heritage, the Roman-era mining galleries. But we will continue to resist, three weeks have passed and we are still here," said Nicoleta Bogza, a protester.
Demonstrators are against plans by Canadian company Gabriel Resources to mine in the village of Rosia Montana in the region of Transylvania.
Critics warn that the project would damage the environment, as the Canadian company plans to destroy four mountain tops and wipe out three outlying villages in the area.
The project would also involve using an average of 12,000 tons of cyanide a year to mine, which is 12 times more than the amount used in the mining industry in the entire European Union.
Experts have said that the area holds an estimated 314 tons of gold and 1,500 tons of silver.
The Sunday rally came a day after thousands of Romanians formed a seven-kilometer long human chain around the parliament in protest against the project.
The demonstrations erupted on September 1 after the Romanian government approved a draft law granting national interest status to the Canadian project.
The government gave the approval after it received a bigger stake in the project by the Canadian company, which has been waiting 14 years to receive permit for the mine.
The recent weeks of protests forced the Romanian government to postpone a parliamentary vote on the bill until November. Prime Minister Victor Ponta has agreed to form a special committee to examine the project.
The committee has until October 20 to produce the report, as it will then be passed to the parliament ahead of the final vote on the bill.