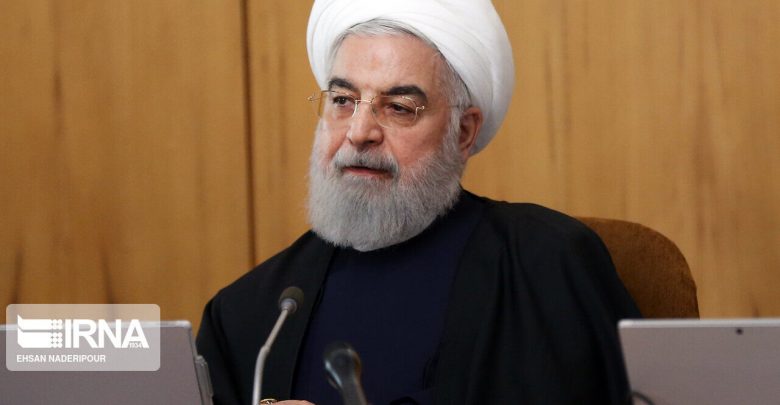 Iran's President Hassan Rouhani described the IRGC commander Leuitenant Qasem Soleimani as the commander who protected Iran's borders and said all should strive to safeguard his legacy.
He made the remarks on Wednesday when addressing the Iranian cabinet's weekly session.
He said despite all tough conditions, big chances are still possible to make.
President Rouhani said that the Iranian people have already experienced many tough days recently and hoped these sad days will be over soon.
Referring to Lieutenant-General Qasem Soleimani's assassination by the US, he said the commander defended Iran and could stand no differences among Iranians.
He stressed that Iran belonged to every single Iranian regardless of their tastes and lifestyles. "Iran is not just one color and one taste. All tastes and thoughts should be respected," he added.
Stressing the importance of preserving the lives of every and each Iranian, the President underscored that "as the Holy Quran says the loss of one innocent life equals the loss of the whole humanity."
He said that the attack on General Soleimani, stampede at Soleimani's burial procession, and the mistake that brought the Ukrainian airliner down were all unexpected.
Rouhani said that we knew that the US is a criminal but did not imagine that they might target a guest of a country who happened to be the General of fighting against terrorism in that country.
About the mistake that shot down the plane, he said that those who made the mistake are the same ones that have spared no efforts to maintain the security of the country. But unfortunately, the mistake happened.
He added that General Soleimani's assassination will be responded. The military response was given by hitting the US airbase in Iraq, which showed that Iran will not compromise and if they do any crimes, they will receive the answer. But, the big response will be for the US to leave the region.
Regarding the people who lost their lives in Kerman during the funeral procession of Lieutenant-General Soleimani, he said that the people who were responsible for organizing the ceremony should be accountable.
He also said that Iran should take measures to avoid recurrence of such mistakes.
President Rouhani also said many are sad with the recent events, but they should not try to weaken the military forces. That's a mistake.
Rouhani said that such an incident has not happened in Iranian history, even during the war. It shocked the people and the officials.