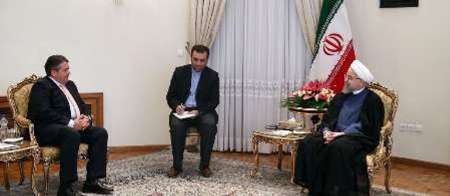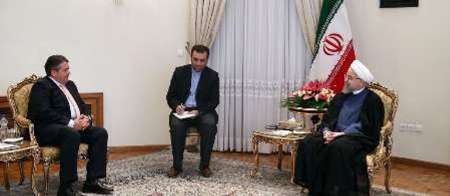 President Hassan Rouhani said on Monday that many problems can be resolved by winning mutual trust and fulfilling the commitments.
President Rouhani made the remarks in a meeting with visiting German Vice Chancellor Sigmar Gabriel who also serves as Economy Minister of the European country on Monday.
One of the ways to bolster implementation of deal between Iran and G5+1 is expansion of broad-based economic and commercial cooperation between the two sides, said President Rouhani.
Close cooperation between countries could lead to better understanding and mutual trust, he said.
It is said that the best means to create trust is supervision of IAEA, but mutual relations and respect is much more important than that, he said.
The best guarantee will be establishment of close and impressive economic, cultural, social, political and scientific relations and all these privileges should not be ignored for minor issues, he said.
The Islamic Republic of Iran will remain committed to all its pledges on the condition that the other party to keep its pledges, said President Rouhani.
Fortunately, both sides' businessmen and investors in various academic and scientific fields have had long-lasting contacts and we always have good memories on German cooperation, he said.
'We believe that expansion of economic and cultural cooperation could bring both sides much closer through expansion of political cooperation,' he said.
Cooperation between the two sides' academic, research and tourism centers could lead to broadening of mutual cooperation, he said.
Iran welcomes the fist German high ranking delegation after deal between Iran and G5+1 and it is expected the German government to continue its positive role the same it played in nuclear talks, he said.
Iran's significant strategic role in the region could bridge West to East, Central Asian countries to free waters and corridor connecting West to East , said president Rouhani adding that close cooperation between Iran and Germany could bring both region and Europe much closer.
Iran can play significant role in expansion of economic cooperation through development of its railway system and investments and turn to a center for production of required products both for the region and near by countries, he said.
Expansion of economic cooperation and upholding the two sides cultural contribution are vital in fight with terrorism and their eradication from the region, he said adding that it is not possible to uproot terrorism through intelligence cooperation, flight of fighter planes, bombardment and military coalition.
Short term activities might not bear fruit in fight with terrorism but this should be deal with through expansion of cultural cooperation to help uphold youths and find them suitable job opportunity to avoid being recruit by terrorist groups, he said.
Visiting German vice chancellor, for his part said he is confident that German businessmen and its government will spare no efforts in broadening mutual cooperation.
The two nations are now at the zenith of experts and crafts and have good command in the technological know-how and grounds for the expansion of cooperation is not comparable with other countries in the region, he said.
'We are very happy to witness that Iran's nuclear dossier has been resolved and this could turn into a new chapter in expansion of Tehran's relations with German and Europe,' he said.
German businessmen traders wish to back and play active role in Iran and all should prove that these opportunities should not be missed, he said.
German companies are not only looking to sell their products to Iran, but they seek to transfer the technological know-how and increase the level of proficiency of Iranian workforce, he said adding that German government is to back active presence of German investors to Iran.