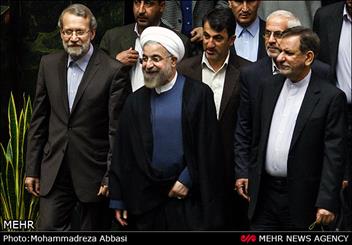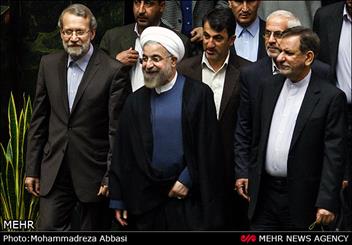 Hassan Rouhani, who was speaking in the joint government and the parliament session on Tuesday told the meeting that the world should know that the Islamic Republic of Iran's officials have the ability to solve the issues even under current economic hardships through 'cooperation and coordination.'
"Positive growth in construction budget, stability in the market, general willingness by foreign investors to return to Iran, and emphasis by the EU nuclear negotiators to solve the nuclear issue all indicated government's success in different aspects," Mr. Rouhani asserted.
Rouhani welcomed what he believed was 'plurality of opinions and constructive criticism mounted on government record.' "On national issues, everyone should develop a consensus so that our negotiators could handle the negotiations from a position of strength and self-assertiveness against the 5+1," the president told the meeting. "If they see that Iran controls inflation and generates economic growth, they will seek to solve the issues very soon," Rouhani argued.
President Rouhani congratulated 'parliamentarians and the nation' on finding a way out of stagflation. "Today, entrepreneurs and enterprisers welcome investments in all provinces; investments requires stability which the government has managed to stabilize exchange rate and inflation within the recent year," he said.
Rouhani believed that economy would be improved when "private and cooperative sector are given opportunity and space in managing economy.
"We welcome criticism and expert commentary; however, nobody would cast doubt on our figures given in statistics," Rouhani said, calling the public to be satisfied with the progresses made towards prosperity.
About his visits to New York with western leaders about nuclear issues, Rouhani said that in meeting with EU leaders, "I found them very eager to solve nuclear issue immediately. This was evident in their gestures and demeanor," he added, believing that Iran and G5+1 have developed an agreement about fundamentals of the nuclear issue.
"They have accepted Arak heavy water complex or the fact of enrichment, or Fordow nuclear facility; we have addressed and eliminated their concerns over military centers as well; the only issue is on the details of all these issues they've recognized as Iran's rights," president said to parliamentarians.
About Iran's role in solving issues and meeting crisis in the region, Rouhani emphasized that no power would claim to set aside Iran from international equations, since "it is impossible, and the public would not believe if ever such claims were made."
"On the sidelines of UN General Assembly, despite the criticism, they have no doubt about Iran's key position in region; this is a psychological defense mechanism that they articulate such staff; since their claims have not materialized about Iran today," he emphasized.
Rouhani also said that hitting a boom would mean unity of authorities and the public. "We are yet in the beginning, and need much work to see a single-digit inflation rate and a stable growth rate of 6 per cent by 2016," Rouhani emphasized.
"The government's decision to finance social security and health by revenues amassed by subsidies of energy carriers has attracted attentions from EU countries, since many of them failed in such orchestrated plan before," president told the meeting.