Iran
Rouhani lauds India role in Chabahar plan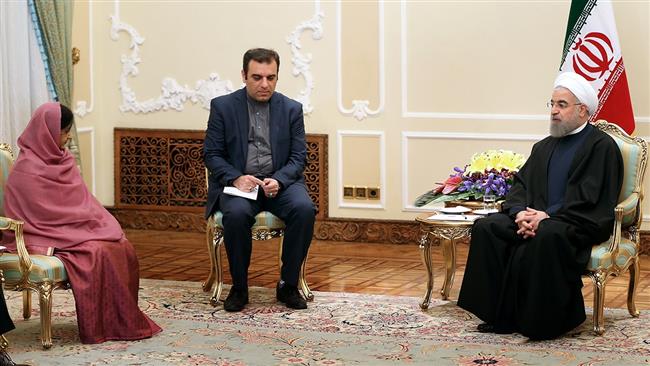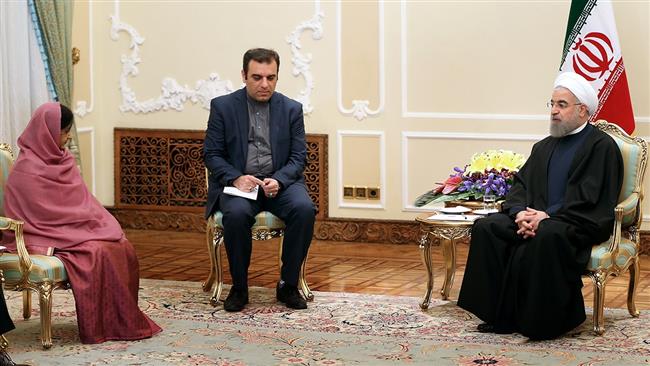 Iran's President Hassan Rouhani said on Sunday that the development of the country's southeastern port of Chabahar will help connect India with Central Asia and will mark a new chapter in relations between Tehran and New Delhi.  
Rouhani, in a meeting with the visiting Indian Foreign Minister Sushma Swaraj, emphasized that the expansion of relations with India in various areas will benefit the whole region.
He said Iran and India have significant commonalities that they can exploit to develop their capabilities in various areas.
Rouhani further said that the economies of Iran and India complement each other, adding that Iran can satisfy India's energy needs and thus help the Indian expanding economy.
The Indian foreign minister for her part said New Delhi wants to promote relations with Iran in all areas.
Swaraj said the strong bonds between Iran and India can help the enhancement of their political and economic relations.
She emphasized that New Delhi is determined to cement a mutually-beneficial relationship with Tehran. For that to happen, the Indian minister said, relations between the two countries should be defined beyond merely trade ties.
Elsewhere in her remarks, Swaraj said that there is a wide variety of areas in which India can invest in Iran, adding that the development of Chabahar port is only one of them.
She said the project – once fully developed – can benefit not only Iran and India but also the whole region.
Chabahar is located in the Gulf of Oman on the border with Pakistan. It is the closest and best access point of Iran to the Indian Ocean and Iran has devised serious plans to turn it into a transit hub for immediate access to markets in the northern part of the Indian Ocean and Central Asia.
In May 2014, India and Iran signed a Memorandum of Understanding (MoU) to jointly develop the port once the international sanctions against Iran were lifted. Both sides agreed as per the MoU to allow India lease two docks at the port for a period of 10 years, a move that was meant to cut India's crude oil and urea transportation costs by around 30 percent.
India is also relying on the prospects of establishing rail links from Chabahar to Afghanistan and thereon to Central Asia.