Economy
Iran
Middle East
Rouhani: Launching Petchem Projects Progressing despite Sanctions
Iranian President Hassan Rouhani described the inauguration of three major petrochemical projects with a total investment of $1.6 billion as a major step towards development despite sanctions and the spread of coronavirus.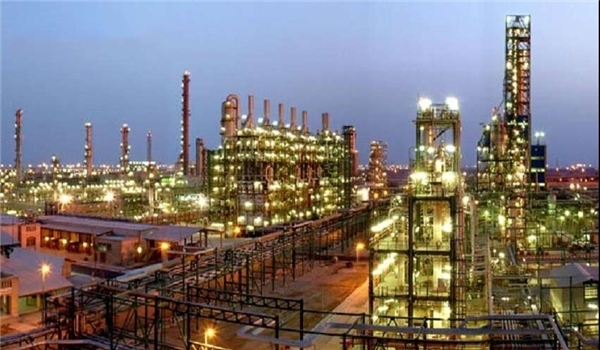 "Today we are witnessing the transformation of the petrochemical industry," President Rouhani said addressing the inaugural ceremnoy of major petrochemical projects via video conference on Thursday.
"Today's inaugurations were doubly gratifying, because when we want to distance ourselves from crude oil exports and turn them into valuable products, one of the ways is to develop and transform the petrochemical industry," he added.
Rouhani opened Kaveh Methanol and Kimia Pars Middle East projects in Bushehr and Lorestan Petrochemical Catalyst unit, via video conference.
"The inauguration of three important national and petrochemical infrastructure projects worth about $1.6 billion is a valuable step in the development of the country," the Iranian president added.
Rouhani stated that 17 petrochemical projects would be inaugurated by the end of the current Iranian year (will end on March 20, 2021).
"These projects are for setting the ground for and materializing the third leap of the petrochemical industry, which will take place in 1404 (2025)," he added.
In a relevant development in late June, Iranian Oil Minister Bijan Zangeneh announced that the country's petrochemical income will considerably increase during the coming months.
"Petrochemical revenues will reach $25 billion by next year due to the implementation of the second leap of oil and petrochemical projects," Zangeneh addressing a ceremony held via videoconference to inaugurate three important oil projects.
He reiterated that Iran's national petrochemical income had been one billion dollar over the past two decades.
The projects include normal hexane production unit of Imam Khomeini Refinery (Shazand)-the first refinery company which started work from the early years of the 1979 Islamic Revolution-in central Iran, Goureh-Jask crude oil pipeline which increases the transport capacity to one million barrels a day on southern Iran and Miandoab petrochemical complex, which will bring 140,000 tons of growth in petrochemical products, on northwest of Iran.
He further noted that 17 petrochemical projects are planned to be inaugurated up to the end of the current Iranian year (will end on March 20, 2021).
"The projects will leap production as Supreme Leader of the Islamic Revolution Ayatollah Seyed Ali Khamenei has stressed the importance of doing so after naming the new Iranian year as 'Surge in Production'," Zangeneh said.