Asia-Pacific
Iran
Korea
Middle East
Rouhani says Iran, North Korea need to stand strong against US as common enemy
Iranian President Hassan Rouhani says Iran and North Korea need to stand stronger than ever against the US' bullying and excessive demands.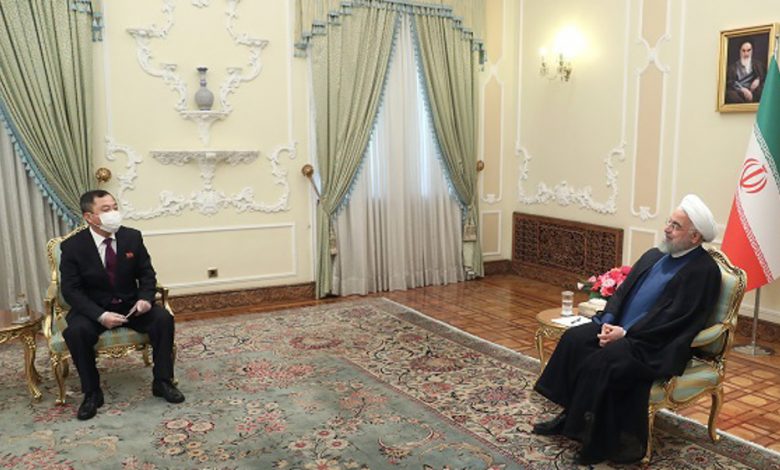 Describing the United States as a "common enemy" for Tehran and Pyongyang, the Iranian president said, "US officials have always oppressed and imposed sanctions against governments and nations such as Iran and the Democratic People's Republic of Korea, and we must stand stronger than ever against their excessive demands and coercion."
The Iranian president made the remarks as he received the credentials of North Korea's new ambassador to Tehran on Wednesday.
Referring to the friendly relations between the two countries since the victory of the Islamic Revolution, Rouhani expressed hope that bilateral relations would improve to benefit both nations and the region.
Acknowledging the need for Tehran and Pyongyang to expand relations, the North Korean envoy said, "Confronting the US excessive demands and hegemony" is among the commonalities of the two countries.
Separately on Wednesday, the Iranian president also received several other newly-appointed ambassadors to Tehran, including the Bulgarian, Hungarian, Nicaraguan and Pakistani envoys.
In the meeting with the new Pakistani ambassador, Rahim Hayat Qureshi, Rouhani emphasized the need to reopen borders and expand trade and goods exchanges between Iran and Pakistan, and stressed the need for the two countries to implement their agreements.
He stressed the need to develop and deepen bilateral relations and relations with Pakistan in all fields, and said, "I hope that the cooperation between the two countries in ensuring the security of the common borders will continue and expand."
Referring to the restrictions imposed on border crossings between Iran and Pakistan due to the outbreak of the coronavirus, the Iranian president expressed hope that the borders will be reopened soon in accordance with health protocols so that border market activities will be further promoted to contribute to trade exchanges between the citizens of the two countries.
Pakistan deems Iran's security as its own
For his part, the Pakistani envoy described Iran as a very important and influential country in the region and said, "Relations with Iran are of great importance to Pakistan and all Pakistani officials emphasize the development of these relations."
"Pakistan will continue to support Iran in international forums, and we consider Iran's security as that of our own," he noted.
The new Pakistani ambassador said the development of trade and economic relations with Iran was one of his priorities, adding that the situation of trade borders between the two countries will soon return to pre-coronavirus conditions.