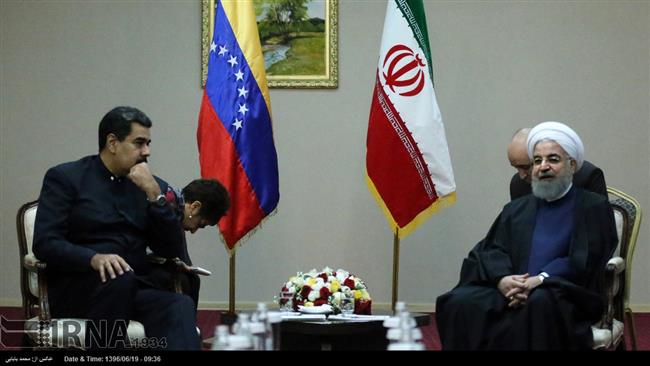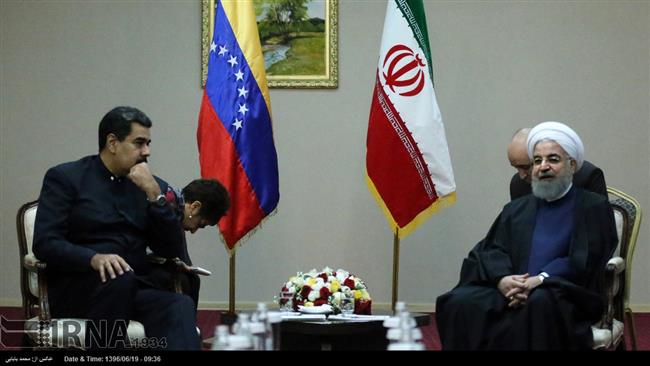 Iranian President Hassan Rouhani has touched on US meddling in other countries' internal affairs in a meeting with Venezuelan President Nicolas Maduro whose country is grappling with months of unrest.
Venezuela has been convulsed by months of unrest, which has plunged the oil-rich country into the worst economic crisis in its history. The government says Washington is instigating the unrest and trying to undermine the South American country.
"We have no doubt that the new methods of the US government cannot last for long," Rouhani said on the sidelines of the first science and technology summit of the Organization of Islamic Cooperation (OIC) in Astana.
Rouhani underlined the importance of unity and further cooperation among independent countries in the face of US efforts to create divisions.
Last month, US President Donald Trump triggered an outcry after saying he would not rule out a "military option" against Venezuela. He made the threat after signing a new executive order imposing sanctions on Caracas.
Maduro told Rouhani that his people "have witnessed invasive maneuvers and meddling by the US, especially over the past six months, but we will stand against these pressures by preserving our unity."
The Venezuelan president urged further expansion and deepening of relations between Tehran and Caracas, which have developed close relations over recent years.
Iran is involved in a series of joint ventures worth several billion dollars in energy, agriculture, housing, and infrastructure sectors in Venezuela. Iran's main industrial projects in Venezuela include a car assembly plant, a tractor manufacturing complex and a cement factory.
Both countries are hugely rich in resources. Venezuela possesses the world's biggest oil deposit while Iran owns the fourth largest oil and first largest gas reserves of the world.
Oil prices
In their talks, Rouhani underlined the need for continued consultations among OPEC and non-OPEC members and hailed Venezuela for helping stabilize crude oil prices.
Caracas has been key to a December 2016 agreement under which OPEC members agreed to cut production by 1.2 million barrels per day. Non-OPEC producers, led by Russia, joined in by committing to cut output by 558,000 bpd.
Maduro said efforts were underway for another meeting to be held among major oil producers by the end of the year towards taking the prices to a desired level.
Regional terror on its last legs
Elsewhere in his remarks, Rouhani described terrorism a global menace. "Fortunately, the countries currently fighting terrorism in the region have had great achievements, so that the conditions for the terrorists in Iraq and Syria are now very dire."
"With the defeat of the terrorists in the region, foreign interference will also be limited," the Iranian president said.
Rouhani arrived in Astana on Saturday for the OIC's first science and technology summit, which will be held over Sunday and Monday. The president addressed the forum in a keynote speech on Sunday.