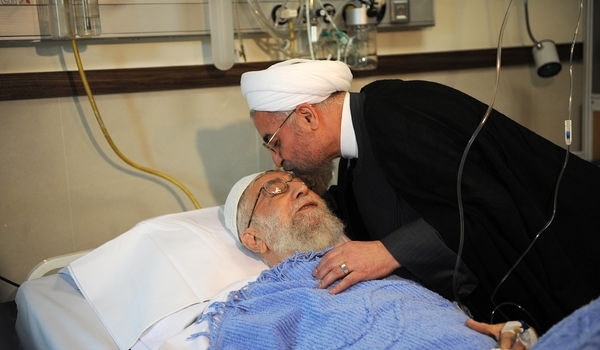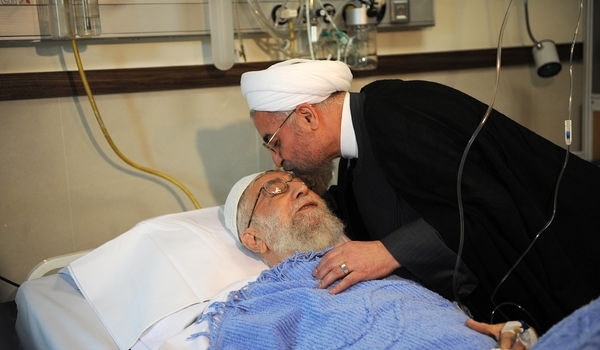 Iranian President Hassan Rouhani visited the Supreme Leader after Ayatollah Seyed Ali Khamenei went under a prostate surgery in Tehran earlier today.
The Iranian Supreme Leader went under a prostate surgery at a public hospital in Tehran on Monday morning.
Surgeons said the operation has been successful.
Following the visit which took place as soon as the leader came out of the recovery room, the President told reporters that the Leader is "in good health conditions now".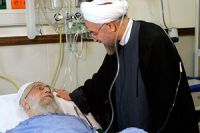 Before going to the hospital, the Leader told reporters that "there is no reason to worry; this, of course, does not mean that I don't need people's prayers, but God willing, there is no point to worry as it is a normal operation."
"God willing everything will go on well," Ayatollah Khamenei added.
Meantime, former Health Minister Dr. Alireza Marandi who is now a ranking member of the parliament's Health and Treatment Commission and also heads the Leader's medical team, told FNA that "the leader emphasized that he did not intend to cause any trouble for other patients and that's why he went to the hospital very early in the morning to go under the operation."
"His Excellency also stressed that the operation should be done at a public hospital," he added.
Dr. Marandi, who is also the President of Iran's Academy of Medical Sciences, said that the leader has demanded him to inform the public of his "good health conditions following the surgery".
Dr. Marandi said like the other patients who have undergone a similar operation, the Leader will be hospitalized for 3 to 5 days. Then, the Leader can return to normal life, but he should avoid a heavy working agenda for a few weeks, Dr. Marandi added.