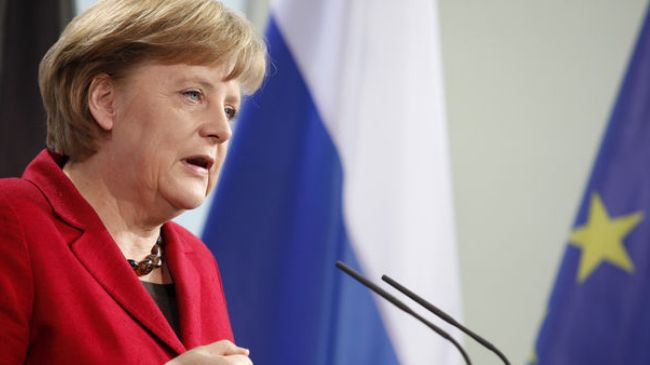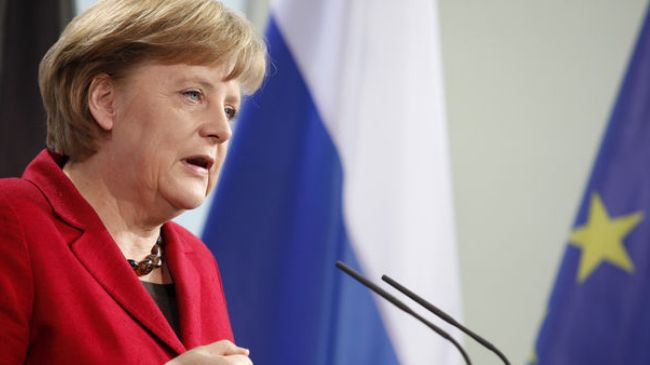 German Chancellor Angela Merkel has accused Russia and China of weakening the United Nations by opposing the West's push for a war against Syria.
Merkel, who has backed a possible US military offensive against the Arab country, made the remarks in an interview with German daily Augsburger Allgemeine published on Saturday.
"It is very regrettable that Russia and China have refused for some time to come to a common position [with the West] on the Syrian conflict. This considerably weakens the role of the United Nations," she said.
Russia and China have vetoed three anti-Syria resolutions proposed by European states threatening military action and sanctions against Damascus since March 2011.
Russia and China are also opposing the current push by the United States, Britain and France to launch a war on Syria, vowing to veto any resolution that paves the way for the military action.
Elsewhere in her interview, Merkel said that Germany, however, would not participate in any war without prior endorsement from the international community.
"Germany cannot participate in any military intervention without a mandate from the United Nations, NATO or the EU," she said.
"Therefore, there is no question of any participation by the Federal Army at the moment," added Merkel.
A poll published on Thursday showed that six out of ten Germans are against any military offensive by the West in the Arab country.
On Friday, Merkel's challenger in the September 22 election, Peer Steinbrueck, opposed the likely Western offensive in Syria.
"I want to make it quite clear for myself and for the SPD (Social Democrats) that we believe a military intervention would be wrong because we cannot see how it would help the people in Syria," Steinbrueck told reporters in Berlin.
On Thursday, the second meeting of the UN Security Council's permanent members ended without reaching an agreement on Syria.
Representatives from the US, Britain, France, Russia, and China met on Thursday afternoon at the UN headquarters in New York for the second time in two days, but the meeting broke up after less than an hour, with the ambassadors steadily walking out.
The Western members of the council have been pushing for a resolution on the use of force while Russia and China are strongly opposed to any attack on Syria.
The call for military action against Syria intensified after foreign-backed opposition forces accused the government of President Bashar al-Assad of launching a chemical attack on militant strongholds in the suburbs of Damascus on August 21.
Syrian Prime Minister Wael al-Halqi said on Wednesday that the West is seeking to turn Syria into a second Iraq and that the issue of chemical weapons use is only a pretext for war.