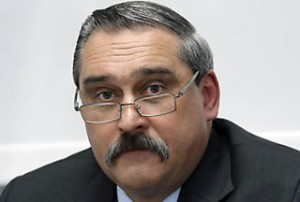 Russia has defended its contacts with Hamas after President Dmitry Medvedev met the group's leader, saying the organization must play a role in peace talks.
"Hamas is not an artificial structure," Andrei Nesterenko, the Russian foreign ministry spokesman, said in a statement on Thursday.
"It is a movement that draws on the trust and sympathy of a large number of Palestinians. We have regular contacts with this movement."
"It is known that all other participants of the Middle East quartet are also in some sort of contact with the Hamas leadership, although for some unknown reason they are shy to publicly admit it," Nesterenko said.
The Russian president, who met exiled Hamas leader Khaled Meshaal in Damascus Tuesday, later said that no group should be excluded from peace efforts.