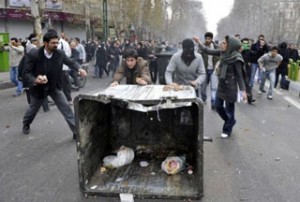 The Russian Foreign Ministry has voiced concern over the recent anti-government protests in Iran and said Russia is not meddling in Iran's internal affairs.
The Russian Foreign Ministry issued a statement on Monday, after protests in Iran on Sunday during the Muslim ceremonies for Ashura, which is the anniversary of the martyrdom of the grandson of Prophet Muhammad (PBUH), Imam Hussein (PBUH).
At least eight people were killed in clashes between security forces and demonstrators that broke out during the protests, according to the Tehran police headquarters.
The police also said that the police forces neither used violence nor fired a single bullet on Sunday.
"We believe the most important thing in such a situation is to show restraint, and seek a compromise on the basis of the law, and also to take political efforts to prevent a further escalation of the confrontation," the Russian Foreign Ministry statement added.
The Russians rejected allegations claiming Moscow was involved "in the internal political processes in Iran."
Commenting on the allegations, the statement said, "We are convinced that this is the work of those opposed to Russian-Iranian cooperation."