Iran
Russia hasn't stopped cooperation Iran in Fordow: Iran
Iran says Russia has not retreated from cooperating with Iran at Fordow enrichment facility, rejecting claims that a recent halt in the Russian contribution has been prompted by US sanctions.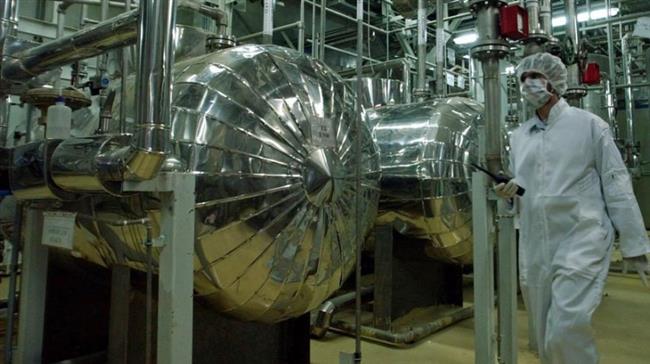 Foreign Ministry spokesman Abbas Mousavi said Monday the cooperation has been halted because of "technical" issues which are being sorted out by Iranian and Russian experts.
The United States restored sanctions against Iran after unilaterally leaving a multilateral nuclear agreement to which Russia is a signatory.
In November, Washington cancelled a waiver for international cooperation in Fordow, including Russia's reconfiguration of the enrichment facility to produce stable isotopes used in clinical studies.
Iran, meanwhile, has resumed injecting gas to centrifuges at the facility as part of its decision to scale back its commitments to the nuclear accord.
Moscow has said it needs time to react to the new circumstances at Fordow. Russia contends that gas injection to the centrifuge cascades in the same premises where stable isotopes are to be produced has hampered the original plan of reconfiguration.
"The main reason for the halt is simultaneity of two operations. The Russian side is trying to find out whether both can be undertaken at the same time," Mousavi said on Monday.
Russian nuclear reactor builder Rosatom said earlier this month that it had stopped reconfiguration work at Fordow.
Prisoner exchange
Mousavi also said less than 3,000 Iranians are held in prisons abroad, while Iran holds a number of foreign nationals in its custody. The Islamic Republic, he said, is prepared to exchange prisoners with other countries on "humanitarian grounds."
"We are ready for an exchange with the US, the ball is in the American court," he said after Iran swapped this month an American citizen held for espionage for an Iranian scientist imprisoned in the United States while on a sabbatical.
Mousavi said American prisoners in Iran are held for the obvious security and spying convictions, while "a number of our citizens being held hostage are in US prisons for false charges."
He touched on the Foreign Ministry's travel warnings advising Iranians, especially academics, not to visit the United States.
"Foreign Ministry makes recommendations on the basis of its inherent goals and we have recently recommended that students and university professors be cautious in their visits to America even if they hold a visa or have an invitation," Mousavi said.
The spokesman touched on the case of Iranian stem cell scientist Dr. Masoud Soleimani who returned home last week after languishing more than a year in American prisons.
"Mr. Soleimani had traveled to the US normally and legally, but he was illegally held in prison for 14 months on hollow charges," Mousavi said.
US dismayed by Iran's scientific progress: Freed scientistFreed Iranian stem cell scientist Dr. Soleimani says the US is dismayed by Iran
'Saudi Arabia should stop double-talk'
Mousavi said Iran welcomes the "good will" of certain countries attempting to de-escalate tensions between Iran and Saudi Arabia.
"However, we sometimes see double-speak by Saudi officials that are inconsistent with the spirit of the Iranian trait and the efforts of other countries," he said.
"We hope such talks will end on the part of Saudi Arabia, and that the country will clasp our hand of friendship and know that calling up outsiders to the region and piling up arms will not create security, but will worsen the situation."
Under de facto ruler Mohammed bin Salman, Saudi Arabia has followed a confrontational policy with Iran after cutting off diplomatic ties with Tehran in 2016.
Mousavi also brushed aside negotiations about the three Iranian islands in the Persian Gulf during Foreign Minister Mohammad Javad Zarif's recent trip to the Qatari capital for Doha Forum.
"Arab countries also know that the three islands are Iranian… This issue is not something to be discussed in the context of negotiations, it is rather an obvious and definitive issue and the claims of others will not change the realities."
No Iranian meddling in Iraq
Mousavi also expressed hope that calm will return to Iraq, which has been rocked by violent protests over the recent months.
The spokesman said certain sides had tried to take advantage of the unrest to target Iran, especially in Najaf where the Iranian consulate was set on fire by a group of rioters.
"Iran considers Iraq as a sovereign country, and does not interfere in its affairs under any circumstances," the spokesman said.
Mousavi also voiced Iran's readiness to cooperate with Iraq on restoring stability and peace to the Arab country.