Europe
Russia runs anti-Kiev campaign: Ukraine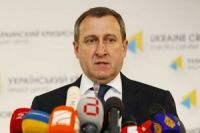 Ukraine's acting Foreign Minister Andriy Deshchytsya says Russia runs a "propaganda campaign" to persuade world powers not to recognize the results of the country's recent presidential election.
According to Press TV, Deshchytsya made the remarks in an article published in Kyiv Post daily on Saturday.
He said Moscow was employing every means to unsettle the country's new leaders.
Deshchytsya added, "Five days since [the] election, there has been no official recognition yet. Obviously, the Russian Federation doesn't have legal grounds to question the election's legitimacy."
He further noted that the "massive information campaign [the] Kremlin has launched these days, with an avalanche of double-talk and fake news, signals one thing — this is Russia's last chance to try shifting the balance of international public opinion."