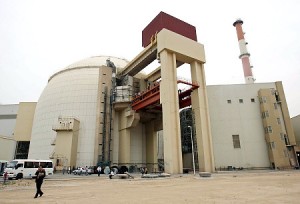 Russia will put into service the nuclear reactor it is building at Iran's Bushehr atomic power plant in August, a Russian official says.
"The main equipments of the plant have been assembled," Timur Bavlakov, vice president of Russian Atomstroyexport, the project contractor, said on Tuesday.
"The start-up of the Bushehr nuclear power plant is planned for August," RIA Novosti quoted Bavlakov as saying.
Bavlakov added that Russian experts would carry out "warm water test" on the nuclear reactor in April to prepare the power plant for becoming operational.
Last week, Russian Prime Minister Vladimir Putin said that that Moscow plans to start up the long-delayed 1,000 megawatt plant "this summer."
The construction of the Bushehr plant started in 1975 when Germany signed a contract to build a nuclear plant in Bushehr. Berlin, however, pulled out of the project following the 1979 Islamic Revolution in Iran.
Iran then reached an agreement with Russia in 1995. Under the deal, the plant was originally scheduled to be completed in 1999 but the completion of the $1 billion project has been frequently delayed.