World News
Russia says Kiev, West responsible for violence in Odessa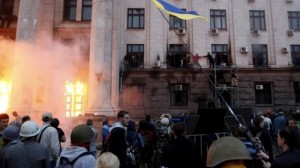 Russia says the acting government in Kiev and its Western supporters are responsible for the killing of dozens of people in the southern Ukrainian city of Odessa.
"Kiev and its Western sponsors are practically provoking the bloodshed and bear direct responsibility for it," Russia's RIA Novosti news agency quoted President Vladimir Putin's spokesperson as saying on Saturday.
Dmitry Peskov condemned the West's approval of Kiev's controversial "anti-terrorist operations" in the eastern and southern parts of Ukraine, arguing that those who regard the Kiev "junta" as lawful are complicit in the recent violence in Odessa.s
Peskov also noted that Moscow has lost influence over pro-Russian protesters and can no longer resolve the escalating situation in the region alone.
He further pointed out that holding a presidential election in Ukraine amid the ongoing violence would be absurd.
On May 2, at least 38 people were killed in Odessa after a building where pro-Russian activists had taken shelter was set ablaze. Four others also died during clashes between pro-Moscow and pro-Kiev demonstrators in the city.
Police have detained more than 130 people in relation to the violence, charging them with participating in riots and premeditated murder.
Tensions in Ukraine heightened after the Autonomous Republic of Crimea declared independence from Kiev and formally applied to become part of the Russian Federation following a referendum in March.
The move led to pro-Russian protests in the eastern and southern provinces of Ukraine. The demonstrators keep occupying a number of government, police and other administrative buildings in over a dozen cities and towns in the eastern European country.