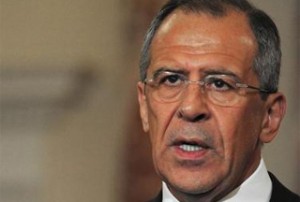 Russia's foreign minister says Moscow is pushing for a fresh meeting between Iranian representatives and those of the six world powers to pave the way for "proper" dialogue.
The EU-3 — Britain, France and Germany — as well as China, Russia and the United States are involved in negotiations with Iran over its nuclear program.
The last meeting was held in Geneva on October 1.
"It should not simply be the latest meeting to discuss procedural questions but one at which a proper dialogue must take place on those proposals which the [EU] 3 plus 3 (powers) have made to Iran and taking into account those ideas which Iran has given to those proposals," Sergei Lavrov, the top Russian diplomat, said Monday after a meeting with British foreign secretary David Miliband.
The West accuses Iran of pursuing nuclear weaponry. Iran says its program is aimed at the civilian applications of the technology and has called for the removal of weapons of mass destruction from across the globe.
Iran has also presented its own package of proposals to the West with the aim of resolving major global issues.
At the Geneva meeting, where Iran's package was discussed, the country's top nuclear negotiator, Saeed Jalili, said that the newly-announced under-construction enrichment facility in central Iran would soon be open to UN inspectors.
The four-member team visited the site in late October. Their report is expected within a few weeks.